CBS Keeps Moonves on Job, Will Hire Counsel to Probe Claims
(Bloomberg) -- CBS Corp. Chief Executive Officer Leslie Moonves will remain on the job while board of the broadcast giant seeks an outside counsel to investigate allegations of sexual harassment.
The board announced its action in a statement Monday, delaying a decision on the fate of the 23-year company veteran. The meeting was scheduled before the claims that came to light in a New Yorker article published July 27. CBS's board also delayed the annual shareholder meeting again.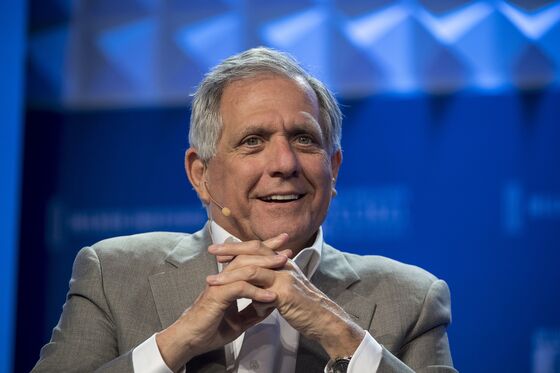 Several women accused Moonves of sexual harassment, including forced touching and kissing during business meetings. The women said they were physically intimidated and that their careers suffered when they refused his advances. The article goes on to describe a culture of harassment at CBS.
Moonves acknowledged there were times decades ago that he may have made some women uncomfortable, but said he never used his position to harm anyone's career.
The departure of Moonves, 68, who's led the company since 2006, would be a blow to the broadcaster. He's been a major force in TV since the 1980s, and CBS has led the audience ratings for most of the past decade on the strength of its programming on his watch. The network's hits include a broad slate of comedies, procedural shows like "CSI'' and live sports.
Moonves is the latest Hollywood bigwig to be accused of sexual misconduct. Since producer Harvey Weinstein was ousted last October from his studio over allegations of assault, Hollywood has seen a wave of dismissals and the cancellation of films and shows featuring Louis C.K. and Kevin Spacey. Disney eased out animation executive John Lasseter over allegations of inappropriate touching.
CBS is locked in a battle with National Amusements Inc., led by Shari Redstone, over her desire to recombine the company with Viacom Inc., another family holding. For some time, the board has been split between those loyal to Moonves and Redstone, whose family owns a controlling stake in both companies.
The scandal could hasten the end of the legal fight. Moonves and Redstone, once allies, clashed repeatedly in recent years over the prospect of a merger. Redstone advocated a merger to help boost flagging Viacom, and wanted Moonves to run the combined company. Moonves opposed the idea, believing Viacom's best days are behind it.
Shares of CBS fell 5.1 percent to $51.28 at the close in New York and are down 13 percent this year. The company said a new date for the annual shareholder meeting, which had been planned for Aug. 10, would be announced later.
The company is scheduled to report second-quarter results after markets close on Aug. 2, and Monday's announcement suggests Moonves will participate in a call with analysts afterward, as he usually does. Analysts forecast profit will rise 14 percent to $1.11 a share, while revenue increases 6.2 percent to $3.46 billion.