CATL Eyes Second Dollar Bond Amid Demand Surge for EV Batteries
(Bloomberg) -- Contemporary Amperex Technology Co., the world's largest maker of electric-vehicle batteries and a key Tesla Inc. supplier, is planning its second dollar bond offering amid surging global demand for green cars.
CATL, as the Chinese company is widely known, has hired investment banks to arrange the potential debt sale, according to a person familiar with the matter, who asked not to be identified because they're not authorized to speak about it.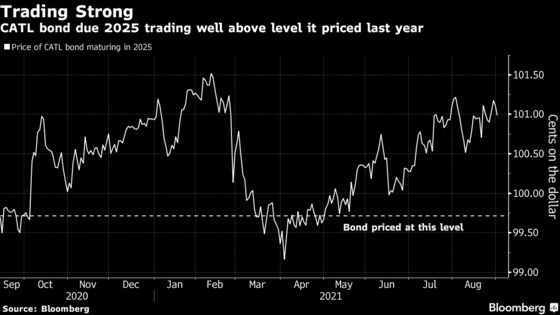 CATL is riding a boom in demand for EVs as countries including China work to reduce carbon emissions and consumers embrace more affordable, cleaner cars. Its net profit and revenue both more than doubled in the first half of this year as sales growth countered rising costs of raw materials such as lithium. 
The Ningde, Fujian-based company is also in initial discussions about acquiring a roughly 10% stake in miner Jinchuan Group International Resources Co. in the hopes of securing supplies of key battery metals, Bloomberg reported last week.
Read More: 
Global EV Battery Sales Jump 144% in First Seven Months of Year
PRICED: CATL $1b 5Y Note at +165bps, $500m 10Y +200bps
Tesla Battery Maker Gets $13.5 Billion of Orders for Debut Bonds
CATL Profit More Than Doubles as Sales Offset Materials Costs