Cathie Wood Buys the 13% Dip in Tesla as ARKK Slips Again
(Bloomberg) -- Tuesday morning's plunge in popular technology stocks offered a rare discounted buying opportunity for true believers. Cathie Wood was among them.
The head of Ark Investment Management snatched up Tesla Inc. after a fourth day of selling wiped out the electric-car maker's gain for the year, she said in an interview on Bloomberg Radio. Tesla pared its losses to end the day down 2.2% at $698.84.
A subsequent email from Ark showed that three of the firm's exchange-traded funds -- Ark Innovation, Ark Autonomous Technology & Robotics and Ark Next Generation Internet -- bought a total 240,548 shares of the automaker on Tuesday.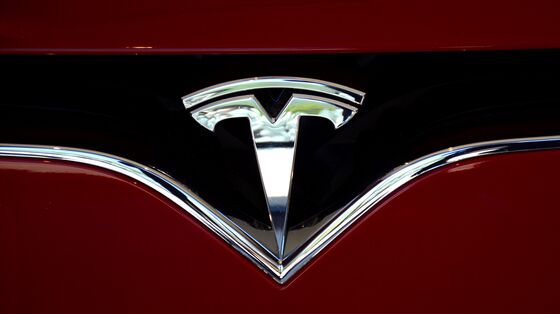 Growth strategies like Wood's faced a reckoning on Tuesday with the Nasdaq 100 falling by more than 3% at one point, amid Treasury yields rising and concerns about lofty valuations in tech names. That gave way to a "buy the dip" frenzy that helped the benchmark turn positive by 3:20 p.m., though a late-session pullback left it lower by 0.2%.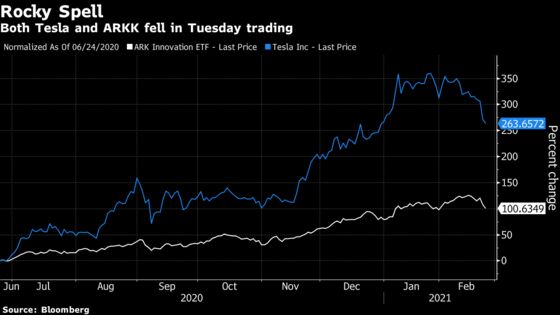 "We love the liquidity that this provides us, we think it's very healthy, a very healthy shakeout," she said of her exchange-traded funds' teams. "All I know is we are keeping our eyes on the prize and the prize just got a little bit more interesting."
Wood's main fund, the $27 billion ARK Innovation ETF (ARKK), notched its worst back-to-back rout since September, falling as much as 11.8% and ending the day down 3.3%. A record $4.96 billion worth of shares changed hands in total, more than double the previous high just a day prior.
"Corrections are good, they keep us all humble," she said. "The strongest bull markets I've been in are built on walls of worry."