Cathay Pacific Sees End to Record Run of Losses After Revamp
(Bloomberg) -- Cathay Pacific Airways Ltd. forecast an end to a record two-year run of losses after job cuts and better service offerings in an overhaul kicked off by Asia's biggest international carrier start to yield results.
The Hong Kong-based airline expects to announce next month a profit for 2018, helped in part by a strong cargo business and growth from additional routes and seats. Cathay Pacific fired at least 600 workers and pared back some of its overseas operations after losses from fuel hedging plunged the company into losses.
Chief Executive Officer Rupert Hogg, who assumed the top post about two years ago, has been seeking to revive earnings in the face of massive expansion by Chinese carriers that reduced their need to fly to Cathay Pacific's Hong Kong base for long-distance travel. With a slew of budget airlines luring cost-conscious travelers and Middle Eastern rivals such as Emirates and Etihad offering ultra luxury, Asia's premium carriers Singapore Airlines Ltd. and Cathay Pacific have faced intense competition.
A drop in global oil prices and scaling back by rival airlines have helped the cause of Cathay Pacific and Singapore Air, whose profit in the fiscal year ended in March 2018 more than doubled. Qantas Airways Ltd., Australia's biggest airline, will report earnings Thursday.
Cathay Pacific's shares jumped as much as 8.8 percent in Hong Kong on Wednesday, their biggest intraday gain in more than seven years. The stock has declined in three of the past four years.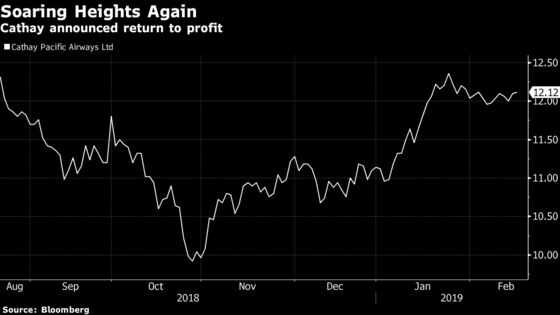 "Its overhaul is delivering," Rahul Kapoor and Chris Muckensturm wrote after Cathay Pacific's announcement. "Cathay Pacific's earnings recovery should accelerate as it benefits from continued improvement in its core passenger business."
Cathay Pacific forecast a profit of HK$2.3 billion ($293 million) for 2018, compared with an estimate of HK$934 million by analysts.
Cathay Pacific is in the final year of its transformation program that is seeking to reduce HK$4 billion in expenses. CEO Hogg has added more international routes and lured customers with better service offerings, such as improved in-flight meals for premium passengers. He's been adding extra economy seats in the 777-300 family aircraft to squeeze more revenue.
"The company's transformation program has had a positive impact," Cathay Pacific said in the filing.
Fuel-hedging contracts gone awry and intense competition from mainland carriers including China Eastern Airlines Corp. and China Southern Airlines Co. resulted in losses in 2016 and 2017, prompting the restructuring. Late last year, the carrier came under fire for the world's biggest airline data breach, which it reported months after the sophisticated attacks on its computer network.
Qatar Airways bought an almost 10 percent stake in Cathay Pacific in late 2017. The Gulf carrier's CEO Akbar Al Baker then said the Asian airline has a huge potential to grow and the current restructuring efforts will help it overcome the tough times.
This month, Cathay Pacific said it is closing its cabin crew base in Toronto as part of the business review, potentially affecting 120 workers. Earlier, it offered a voluntary retirement package to employees in Japan. Still, it plans to hire more than 1,000 cabin crew in Hong Kong this year, the company has said.