Cathay Pacific Chairman Resigns Weeks After CEO Steps Down
(Bloomberg) -- Merlin Swire, the scion of the U.K. family that controls Cathay Pacific Airways Ltd., is running out of concessions to offer after his employees angered China by joining the anti-Beijing protests in Hong Kong.
Less than a month ago, China's civil aviation authority began clamping down on Hong Kong's flag carrier, prompting Swire to swiftly fly to Beijing to try to smooth things over with officials. Since then, Cathay has fired staff and threatened to terminate workers for even supporting the demonstrations -- let alone participate in them. The airline's chief executive officer quit and on Wednesday, Chairman John Slosar announced his resignation.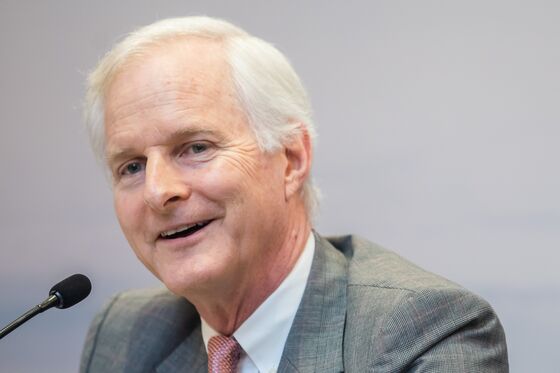 Swire's response to the crisis illustrates the lengths companies will go to avoid falling afoul of the Chinese government. The cautionary tale, involving an airline whose business would be crippled if it lost access to China, has prompted multinational companies such as KPMG and PwC to take steps to avoid giving the appearance of siding against the mainland.
"They're using Cathay as an example on how far they can go, how far economically and financially strangle you," said Shukor Yusof, founder of aviation consultant Endau Analytics. "I don't know whether China will see this as far enough."
Cathay stock fell as much as 3.9%, before trading down 2.6% at HK$10.42 at 1 p.m. in Hong Kong. That trimmed the airline's market value to HK$41 billion ($5.2 billion).
Slosar, 63, will be replaced by Patrick Healy, a 31-year veteran of Cathay's parent Swire Group who has spent years in China.
Cathay's troubles began emerging after employees took part in a general strike last month that caused a shutdown of Hong Kong's airport, canceling hundreds of flights from the carrier's hub. Chinese authorities soon threatened to ban Cathay flights from flying into mainland airspace and imposed a swathe of demands. Then some Chinese state-owned firms boycotted the airline.
Cathay and Swire have since cracked down on employees, warning workers multiple times not to participate in or support any illegal protests.
Though it's unclear how big the financial toll will be, the airline has warned that it expects "significant impact" on its revenue from August and beyond as the protests weigh on travel demand. Both business and leisure travel into Hong Kong has "weakened substantially" and traffic from the city has started to soften, especially on short-haul routes to China and South Korea, Cathay has said.
Zhao Dongchen, the analyst at state-backed ICBC International who last month issued his inaugural report on Cathay with a "strong sell," said the resignations may not be enough to turn around the carrier.
"Management changes are generally good for a company in crisis," he said in response to Bloomberg queries. "But I think Cathay still has a lot to do to turn its current negative public perception."
As chairman when the demonstrations in Hong Kong intensified, Slosar seemed reluctant to rein in Cathay's workforce.
"We certainly wouldn't dream of telling them what they have to think about something," Slosar said at an earnings briefing on Aug. 7, days after Cathay pilot and flight-crew unions took part in a general strike coordinated by protesters. "They're all adults, they're all service professionals. We respect them greatly."
Slosar's replacement, 53-year-old Healy, has worked his way up at Swire's various businesses in Hong Kong, China and Germany, and is currently heading Swire's Coca-Cola operations. He graduated from St. John's College, Cambridge University, in July 1988 with a Bachelor's degree in modern languages.
Healy and the new CEO, Augustus Tang, now have a delicate task of continuing to placate China, an increasingly important market for the seven-decade-old airline. The new leaders also need to minimize the fallout from staff, customers and investors as the unrest in its home base continues to simmer.
After former CEO Rupert Hogg's departure, the Global Times, a newspaper published by China's Communist Party, said the resignation may not be enough to atone for Cathay's "lukewarm attitude" to dealing with its "radical" employees. Pilots and flight attendants from the airline took part in strikes and demonstrations related to the protest, which has morphed from opposing an extradition bill into a mass repudiation of China's hold over the territory it took back in 1997.
There are signs that investors are betting Cathay will be able to soothe Beijing. After tumbling to a decade low last month in the depths of the crisis, the shares have since rebounded as the fourth-best-performer among 64 listed global airlines tracked by Bloomberg.