Cathay Asks Staff to Take Unpaid Leave as Virus Adds to Woes
(Bloomberg) -- Cathay Pacific Airways Ltd. asked employees to take three weeks of unpaid leave as the Hong Kong airline is cutting capacity because of the coronavirus outbreak.
The airline requested all employees to participate in a leave program taking place from March 1 to June 30, it said in a emailed statement Wednesday. Cathay had about 26,700 workers in Hong Kong as of end-June.
"Preserving cash is the key to protecting our business," Chief Executive Officer Augustus Tang told employees, according to the statement. "We have already been taking multiple measures to achieve this."
The outbreak adds to the woes at Cathay, which already issued profit warnings last year as Hong Kong's protests steered people away from the Asian financial hub. The airline is slashing 90% of its flights to China over the next two months after the virus killed almost 500 people and sickened more than 24,000 on the mainland.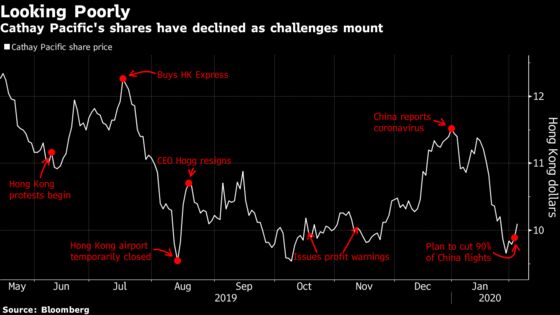 Cathay already started to offer voluntary unpaid leave to pilots last month and has received a substantial number of applications for the program. It also offered a similar option for cabin crew at both Cathay and its Cathay Dragon unit.
The China schedule reduction cuts about 30% of Cathay's total network, Tang said in a letter to staff Tuesday. He said the outbreak has had a "very significant impact" on Cathay's business, causing a drop in customer demand.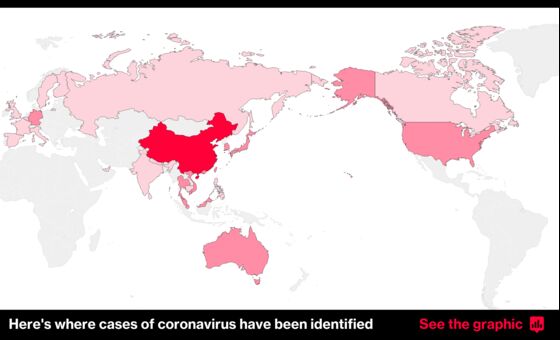 Cathay is particularly exposed because almost half of its revenue comes from its base in Hong Kong and mainland China. It initially announced last week it would cut capacity by at least 50% on mainland routes. Cathay Dragon said Tuesday that it will suspend flights to Guangzhou and Chongqing from Wednesday until March 28. The carrier also halted services to Hangzhou, Ningbo, Wenzhou, Sanya and Haikou from Feb. 2 until March 28.
Cathay's passenger capacity will probably drop 7.5% this year, Andrew Lee, an analyst at Jefferies, said in a Feb. 4 report. That compares with the airline's forecast for a 1.4% decline. The carrier will probably report a loss for the second half of 2019 and first half of 2020, before rebounding to profit in the second half of this year, Lee said.