Caterpillar Price Hike Lobs Tariff Costs to its Customers
(Bloomberg) -- Caterpillar Inc.'s efforts to skirt the effects of tariffs could signal higher costs for miners, construction companies and other customers.
The maker of yellow bulldozers and backhoes said when it reported second-quarter earnings Monday that recently imposed tariffs "are expected to impact material costs in the second half of the year by approximately $100 million to $200 million." The Deerfield, Illinois-based manufacturer plans to raise prices to help offset the hit.
"We have the mid-year price increase announced and our teams will continue to look at all these variables moving forward," Interim Chief Financial Officer Joe Creed said in a telephone interview. "We feel like that's what the market will bear, but we're always assessing it and looking at it."
Surging demand and a 25 percent American tariff on steel imports have combined to send the benchmark steel price in the U.S. surging about 40 percent this year.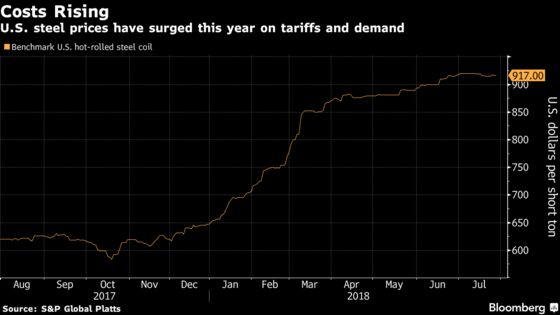 "The biggest piece of that cost inflation is likely steel, and we all know what happened there with the very first salvo of tariffs involving steel," Matt Arnold, an analyst at Edward Jones & Co., said by telephone. "In the past, what we've seen is that CAT is capable of passing costs through to its customer base, so it's not surprising to us that CAT is able to do it again. It has already likely provided that information to its customers that they're coming."
Caterpillar boosted its 2018 earnings outlook Monday as it benefits from rising sales and a years-long effort to increase efficiency, even as it said it expects supply-chain "challenges" to continue to pressure freight costs.