Caterpillar Record Dividend Underwhelms as Shares Decline
(Bloomberg) -- Caterpillar Inc. announced its largest dividend payout on record, but investors may have been expecting more. The company's shares fell more than 2 percent.
Prior to the start of its investor day, the heavy-equipment maker said it plans to increase the dividend in each of the following four years by "at least a high single-digit percentage." With its remaining free cash flow, it intends to repurchase shares "on a more consistent basis," the Deerfield, Illinois-based company said in a statement Thursday.
"All in, the plan is much as we expected -- evolutionary rather than revolutionary, in our view, although some expected a large one-time share repurchase that doesn't appear to be happening," Jefferies LLC analysts led by Stephen Volkmann said in a note.
The announcement comes about a week after the company posted first-quarter profit that beat estimates. Even with those results, shares of Caterpillar, an economic bellwether, slipped last week amid concern over the outlook for demand the rest of the year. On Thursday, Caterpillar said it's making a bet on services, expecting to double sales of machine, energy and transportation services by 2026 and delivering higher margins.
Caterpillar will increase the quarterly cash dividend to $1.03. The world's largest maker of construction and mining equipment also aims to boost adjusted operating margins by three to six percentage points above the historical performance in 2010 to 2016.
"While this is certainly an improved performance, we would point out that Caterpillar is already at the high end of this new framework, suggesting either conservatism or little additional upside from here," Volkmann said.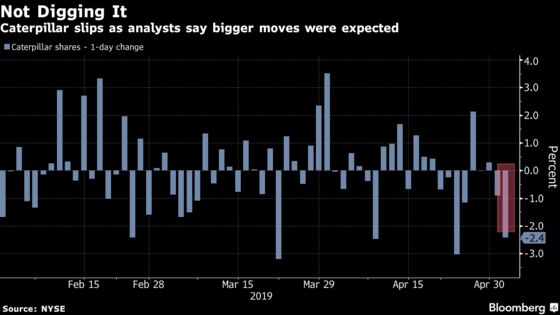 Caterpillar shares fell 2.2 percent at 11:22 a.m. in New York.
"I think investors were expecting the increased returns of cash to shareholders via dividends and buybacks, and the margin target increase,'' said Matt Arnold, a St. Louis-based analyst at Edward Jones & Co. "Given the progress made on margins, the company needed to raise the target'' on margins.
What Bloomberg Intelligence Says
"Caterpillar's updated long-term guidance suggests a focus on boosting its service offerings, which may support operating-margin improvement."
--Karen Ubelhart, Americas industrials analyst
Click here to view the research