Caterpillar Earnings Success Fails to Ease Lingering Growth Fear
(Bloomberg) -- Caterpillar Inc. couldn't have done much more to subdue investor concerns. It beat earnings estimates, raised forecasts and predicted margins to withstand trade tariffs.
Yet the shares lost 2 percent on Monday, with investors wary that the full brunt of Donald Trump's trade war is yet to hit the biggest maker of machinery for mining and construction at a time that some end-user industries may be reaching peaks in their growth cycles.
After surging 70 percent last year, Caterpillar is down 11 percent this year, making it one of the worst performers on the Dow Jones Industrial Average. The stock is trading near the cheapest levels versus the index since 2015 on a reported earnings basis.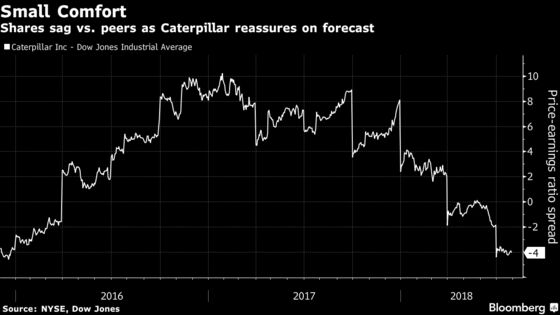 While demand for its iconic yellow diggers and dump trucks is proving resilient to a nascent trade war that's disrupting other companies from Alcoa Corp. to General Motors Co., concern persists that tariffs on steel and other imports will eventually erode margins. The company is still trying to shake off the demons of its first-quarter conference call, in which it warned that the first part of the year may be the "high-water mark."
"There's still gating trade concerns and the potential for cyclical peaks, but more importantly, I think you're going to see a slowing of earnings growth next year," Larry De Maria, an analyst at William Blair & Co. LLC, said by telephone. "CAT may go from a growth stock to a value stock, that's probably what it's transition is."