Caterpillar Downgraded as UBS Sees End Market 'Peak' in 2019
(Bloomberg) -- Caterpillar Inc. was downgraded by two notches to sell from buy at UBS on Tuesday, with the firm writing that it expects more than half of the company's end markets to "peak" in 2019, "pressuring revenue and margins in 2020 as demand declines." It also cut its price target to $125 from $154.
Shares of the Dow component fell 4.3 percent, though it remains up more than 20 percent from a low in October.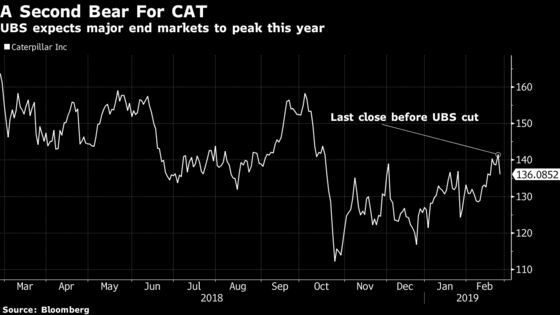 UBS analyst Steven Fisher cited concerns about Caterpillar's construction business and its energy and transportation (E&T) division. He sees construction sales falling 8 percent in 2020, "driven by lower demand" in multiple major geographic regions, including North America and China. E&T sales are seen falling 5 percent, "driven by a slowdown in pipeline capex."
UBS expects Caterpillar's 2020 earnings to fall 8 percent from 2019 "as continued growth in mining and buybacks will not be enough to offset headwinds in construction and oil & gas." The firm cut its earnings estimates for both 2020 and 2021.
These earnings declines, Fisher wrote, were not priced into the stock, and "we expect downward earnings revisions to pressure the stock over the next 12 months."
UBS stands as only one of two firms with a sell rating on Caterpillar, according to Bloomberg data. Eighteen firms have a buy rating on it and 10 view it as a hold. The average price target is $149, which is roughly 9 percent above current levels.