Caterpillar's High-Water Warning Was Premature
(Bloomberg Opinion) -- Caterpillar Inc. spooked investors earlier this year by predicting its first-quarter profit per share would be the "high-water mark for the year." It should have said it wouldn't be the high-water mark.
Those negatives are always so tricky. Investors had been bracing for a slowdown after Caterpillar's comments, but the maker of excavators and compactors instead on Monday reported an acceleration in adjusted earnings-per-share to $2.97 in the second quarter. Notably, Caterpillar reported a $91 million operating profit benefit from higher prices, which more than offset the $78 million in added costs from rising commodity prices and supply-chain pressures. Caterpillar had previously predicted a negative split between price and cost after the first quarter.

Caterpillar thinks it can largely counteract the estimated $100 million to $200 million effect of tariffs in the second half of the year with price increases and cost discipline. It was confident enough in the strength of its markets to increase its adjusted EPS guidance for the full year. This indicates the infamous "high-water mark" comment was more of an exercise in managing investors' expectations than any sort of broader verdict on the industrial cycle. And yet it's notable that there wasn't much of a pop in Caterpillar's stock after the strong earnings report.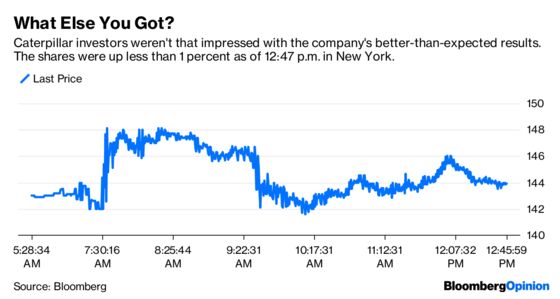 The share price is bouncing around the lowest multiple of estimated future earnings since January 2015. That suggests a concern that the storm is still coming, both for Caterpillar specifically and manufacturers more broadly.  
Most companies lock in metal prices well in advance, which means they may not feel the full impact of steel and aluminum tariffs until 2019. Many have talked about offsetting the costs with price increases, and so far those appear to have been absorbed well, but at some point the added pricing pressure can only speed up the industrial cycle.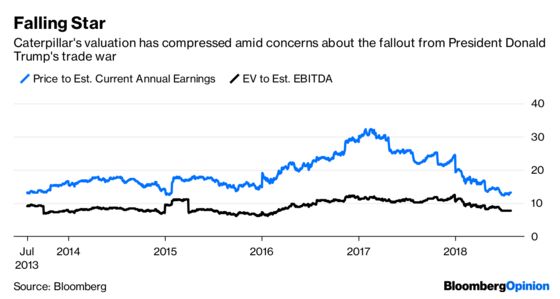 Meanwhile, Caterpillar executives said on the earnings call that they're not yet seeing the impact of trade tensions with China. As evidence, machine sales in the Asia-Pacific region rose 37 percent for the three months through June. The company has localized its manufacturing so that it makes products bound for China in China. This will help insulate Caterpillar from tit-for-tat tariffs, but it won't do much to help the company if China decides to retaliate in less tangible ways such as redirecting business to competitors or holding up approvals.
Caterpillar's earnings report underscores that tariffs aren't going to hit U.S. manufacturers evenly, and some supply chains are at greater risk of being upended than others. It's just too early to call the winners and losers.
This column does not necessarily reflect the opinion of the editorial board or Bloomberg LP and its owners.
Brooke Sutherland is a Bloomberg Opinion columnist covering deals and industrial companies. She previously wrote an M&A column for Bloomberg News.