Casper Is Going Private in Deal With Bojangles Parent Company
(Bloomberg) -- Casper Sleep Inc. will be bought by Durational Capital Management, bringing together mattress and chicken retailers under one private equity roof. 
Durational, which has invested in Kentucky Derby-operator Churchill Downs and owns fast-food chicken chain Bojangles, will acquire Casper for $6.90 per share, a 94% premium to the closing share price on Friday. 
It's another sign that this new generation of direct-to-consumer brands trying to disrupt retail may not be able to deliver in the public market. The mattress company broke through into the mainstream with savvy marketing for its bed-in-a-box offering, but it's struggled to find a second act.
Casper announced the deal as it posted earnings that missed analysts estimates. The company also named Emilie Arel its new chief executive officer, effective immediately, in replacing co-founder Philip Krim.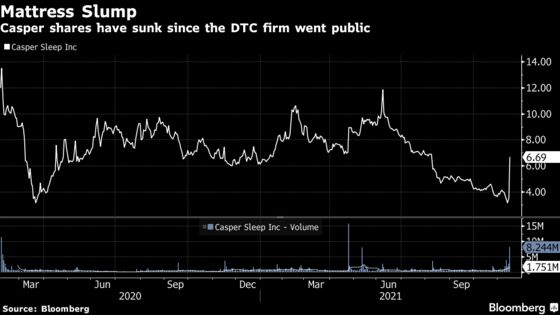 Casper was a unicorn startup before going public in February 2020. On that first day of trading, it closed at $13.50 a share for a market value of $535 million. That came after being valued at $1.1 billion as a private company. 
The IPO sparked a class-action lawsuit by investors, accusing the company of filing misleading financial prospects. Casper's IPO filing revealed that it had accumulated $300 million in net losses, in part due to a massive marketing budget to boost brand recognition. 
Casper shares jumped 88% at 9:38 a.m. in New York on Monday. The stock had plunged 42% this year through Friday.