Casino's Weak Profit Raises Risks for Rallye's Debt Outlook
French retailer Casino-Guichard Perrachon SA's shares plunged Friday after a profit warning cast doubt on whether its parent company Rallye SA can bring itself back to financial health.
Casino said late on Thursday the full-year earnings from its core French retail business missed its forecasts after the debt-saddled retail group took a hit from a wave of strikes and protests across the country. Casino shares plunged as much as 13%, the steepest drop in more than a year.
The warning came shortly after Rallye's bondholders rejected proposals to repay debts over 10 years.
Rallye and other Casino holding companies were placed under creditor protection in May to save the group from collapse. Casino's weakening performance threatens its ability to restart paying dividends, which have been Rallye's lifeline, according to Fabienne Caron, an analyst at Kepler Cheuvreux.
Under a proposal negotiated with bank lenders and issued last month, Rallye would stagger repayments of 1.6 billion euros of unsecured debt over 10 years, while about 1.2 billion euros of bank loans secured against Casino shares would be redeemed by 2024. Bondholders have signaled they don't want to have to wait so long.
"The short-term risk would be to re-create a vicious circle" in which Casino's falling share price would restrict Rallye's refinancing potential, wrote Arnaud Joly, an analyst at Societe Generale.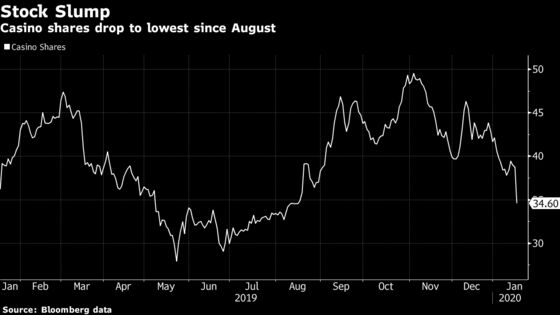 Rallye pledged Casino shares to bank lenders as a guarantee for some of its debt. If the stock falls too much, lenders might not have enough to cover their holdings.
Casino's bonds declined by the most in about three months with the company's 444 million euros of bonds due Feb. 2025 falling 3 cents on the euro to 85, data compiled by Bloomberg show. The cost of credit insurance on Casino bonds rose by the most since July to 714 basis points, according to ICE Data Services.
"Casino is not investable in its current shape," Kepler's Caron wrote in a note to investors.
A Paris court is set to rule on Rallye's plan by the end of March.
"Even if most bondholders object, it's still up to the court to decide," said Anthony Giret, an analyst at Spread Research in Lyon, France. "The alternative is liquidation, and bondholders would be even worse off in that situation."
What Bloomberg Intelligence Says:

"Groupe Casino's halving of its French retail Ebit growth target to 5% is immediately attributable to a second year of social protests in December, yet it also reflects the difficulty of rebuilding margin at a multi-brand, sub-scale food retailer in a competitive market where costs are added as a result of real-estate disposals."

-- Charles Allen, BI retail analyst

Click here to read the research
Casino's fourth-quarter French retail sales fell 1.2% on an organic basis, worse than analysts had anticipated. The weak results raise the risk that Casino might have missed its targets of generating 500 million euros of free cash flow in France in 2019 and a 200 million-euro improvement in working capital, wrote Nicolas Champ, an analyst at Barclays.
Sales would have been worse if the company had kept consolidating results of Leader Price, a discount chain Casino is trying to sell, analysts said.
The grocer said it's trying to fight off the slump by winning new customers with extended store hours. Casino has been using self-checkout machines to leave stores open nights and Sunday afternoons, when French regulations prohibit employees from working. The chain said it hopes to roll out that workaround to at least half its supermarkets and hypermarkets by the end of the quarter.
The profit warning comes at the end of Casino's financial year and after the retailer managed to refinance almost 4 billion euros of debt in November. Casino confirmed its objectives in France in its previous earning release in October.
"After the year-end is a pretty late time to profit warn on the last year," said Rob Orman, an analyst at Henderson Global Investors.