Casino Move to Sell Best Assets Unsettles Analysts: Street Wrap
(Bloomberg) -- Casino Guichard-Perrachon SA's sale and leaseback of 55 Monoprix stores is viewed by several analysts as a move that will reassure investors only in the short term, failing to address the food retailer's more fundamental problems, such as its complex group structure and free-cash-flow challenge in France.
Shares in Casino, which is being circled by short sellers, climbed as much as 3.8 percent in Paris, and were trading 1.6 percent higher as of 11:14 a.m. The company reaffirmed its 2018 targets and gave a bullish outlook for 2019. Moody's late on Friday changed the outlook of Casino's Ba1 corporate family rating to negative from stable, citing the "high leverage" of parent company Rallye SA and the delay in Casino's planned sale of Brazilian subsidiary Via Varejo. Rallye shares were up 1.4 percent on Monday.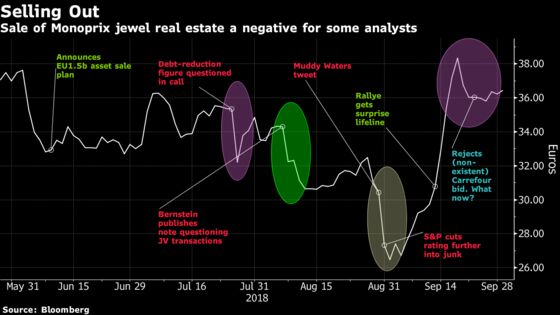 "Disposals of best-in-class domestic assets are no sustainable solution to structural domestic free cash flow and deleveraging challenges, especially in a French retail market as competitive as France," Raymond James analyst Cedric Lecasble writes in note to clients.
Short interest in Casino still stands at about 37 percent of the company's free float, according to IHS Markit data.
Below is a wrap of analysts' comments on Casino's most recent announcement:
Bryan Garnier, Clement Genelot (Buy)
Such sale-and-leaseback operations are unlikely to reinforce EPS (selling a real estate asset yielding 4-5% in order to pay down a debt bearing an interest rate of less than 4%) but it should improve credit ratios and reassure the market in the short term
Co. may already have to do deal with medium-term debt concerns and from that perspective, "there must be no more taboos" with the disposal of strong assets such as Exito's operations in Columbia and Uruguay or even Cdiscount
Goldman Sachs, Rob Joyce (Sell)
Move is in-line with Goldman's assumption that Casino's asset disposal program is likely to be sale-and-leaseback focused, essentially a financing transaction
Brings total of asset disposal plan to EU778m, including the sale of 15% of Mercialys via an equity swap executed with a bank
Investors will likely continue to question how Casino can grow 2019 profit in France by at least 10%, given a further additional ~5% headwind from additional rents on the P&L
Raymond James, Cedric Lecasble (Market Perform)
In a highly competitive French market, real-estate ownership is a competitive advantage: Monoprix real estate is core, and one of the best and most valuable assets in France
Disposal of Asian operations (Thailand and Vietnam) in 2016 was not enough to definitely solve balance sheet issues and avoid selling more core assets.
Domestic free cash flow and ability to deleverage the balance sheet both remain central to the equity story
Sanford C. Bernstein, Bruno Monteyne (Underperform)
Sale-and-leaseback programs increase leverage and create off balance sheet debt (soon to come back on balance sheet with new accounting standards)
Transaction adds 17.4% of Monoprix to lease ownership: according to previous estimates, Monoprix already had leased 50% of its stores, therefore the latest transaction likely takes Monoprix's ownership well below 50%
Deal doesn't solve Casino and Rallye's problems