Faulty Elevators on $13 Billion Warship Draw Key Senator's Ire
(Bloomberg) -- The head of the Senate Armed Services Committee is demanding monthly status reports from the Navy on the first in a new class of aircraft carriers until the elevators needed to bring weapons up to its deck are working properly.
"I remain concerned with construction challenges" on the USS Gerald R. Ford, Senator James Inhofe said Monday in a statement to Bloomberg News. "The fleet needed and expected this ship to be delivered in 2015. Until all of the advanced weapons elevators work," he added, "we only have 10 operational aircraft carriers, despite a requirement for 12."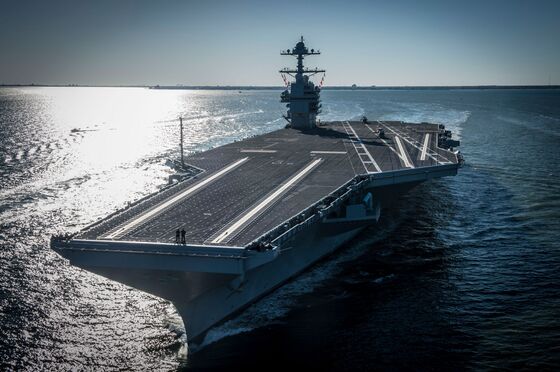 The $13 billion USS Gerald R. Ford, the costliest warship ever, is being built by Huntington Ingalls Industries Inc. None of the elevators were installed before the carrier was delivered in May 2017 -- about 32 months later than planned.
The Advanced Weapons Elevators, which are moved by magnets rather than cables, have been dogged by shipboard installation problems, including four instances of unsafe "uncommanded movements" since 2015, according to the Navy.
The Navy plans to finish installation and testing of the 11 elevators on the Ford before completion of its post-delivery shakedown phase in July. Navy Secretary Richard Spencer has called the elevators "our open Achilles Heel."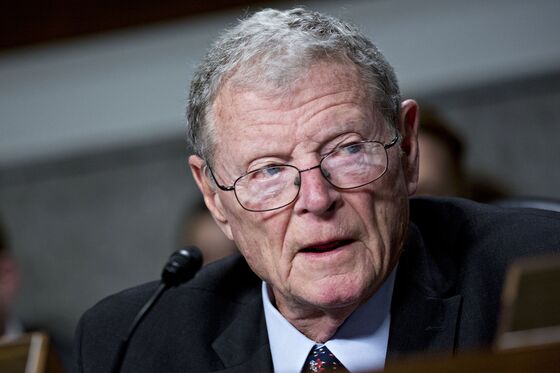 Inhofe signaled that he's intent on holding the Navy accountable for that schedule, especially after the Pentagon last week approved a Navy plan to place the third and fourth carriers in the $58 billion program on a single contract.
While lawmakers left the Pentagon the option of going ahead with a two-ship contract in the current year's defense policy legislation, Inhofe signaled that he's going to maintain close oversight of a program that was often criticized by his predecessor as chairman, the late Senator John McCain.
The two-carrier contract, which the Navy told lawmakers last week would save as much as $4 billion over individual contracts, will be awarded within 30 days to Newport News, Virginia-based Huntington Ingalls, according to Captain Danny Hernandez, a Navy spokesman.
Inhofe said "I look forward to the greater predictability and stability this approach will provide to all levels of the industrial base that supports aircraft carrier construction."
But he cautioned that the two-carrier approach "is a significant commitment" that "will require sustained investments for more than a decade to achieve the Navy's estimate of $4 billion in cost savings."