Mark Carney's Worst-Case U.K. Housing Scenario Deemed 'Highly Unlikely'
Economists aren't buying Bank of England Governor Mark Carney's dire scenario of a U.K. housing crash in the event of a chaotic no-deal Brexit.
Home prices are "highly unlikely" to plunge as much as 35 percent in three years in a worst-case warning laid out last week by Carney, according to a survey of 10 economists by Bloomberg News. Values would decline 10 percent or less, according to six of the respondents. The remaining four said values could decline more than 10 percent but not as much as 35 percent.
The survey offers a more optimistic view on the prospects for the U.K.'s property market as analysts and economists try to parse divergent signals. It adds to encouraging signs this week pointing to a rebound in home prices after the longest losing streak since the financial crisis. Data compiled by property website Rightmove said asking prices for U.K. house prices rose 0.7 percent in September, led by stronger sales. Nationwide, home values in August notched the first increase in five months, according to a report by Acadata.
In the event of a soft Brexit, seven respondents said home prices could rise 5 percent to 10 percent in London, where demand outstrips supply. Two said they would increase by more than 10 percent while only one said they would continue to stagnate or fall.
In addition to the economists surveyed, who provided price ranges for home values across different possible outcomes, property market researchers interviewed by Bloomberg also didn't expect such a gloomy scenario to unfold for the U.K. housing market. Here are views from five researchers on what they see happening next in the U.K.'s 7.1 trillion-pound ($9.4 trillion) housing market, of which London represents about a quarter.
Lucian Cook, research director at Savills Plc in London: "The estimate comes from an extreme scenario used to test financial stability, so it will be at the far end of a range of scenarios," although a long way from a scenario of a soft Brexit. Cook, who said a 35 percent plunge would be highly unlikely and "unprecedented," points to far smaller declines as Britain left the European Exchange Rate Mechanism, with prices falling about 20 percent from late 1989 to early 1993. During the throes of the financial crisis, prices fell about 19 percent from the third quarter of 2007 to the first quarter of 2009.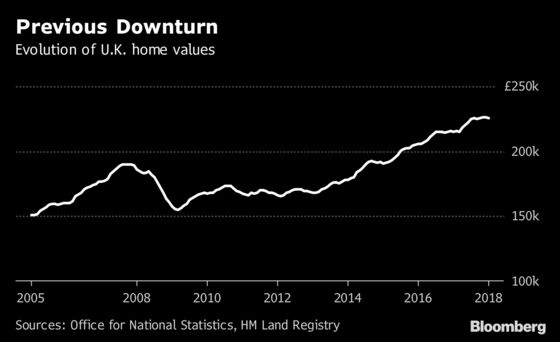 Faisal Durrani, head of research at Cluttons LLP: "While the warning is a wake up call for the government to secure a Brexit deal with the continent, there is a growing underlying expectation of a soft-Brexit. Clearly Brexit and the uncertainty it is throwing up as we race to the March 2019 separation from the EU is impacting job creation rates as some businesses move into a holding pattern, but vacancies are rising across the board." Other issues such as affordability and tax levies remain "far bigger challenges." His forecast for Central London remains subdued and unchanged in light of Carney's warning, with cumulative growth of 4.7 percent expected over the next five years, with Greater London seeing 12 percent growth over that period.
Bloomberg economist Niraj Shah: "We don't expect a no-deal Brexit to prompt a credit crunch or an increase in interest rates. That should prevent a substantial decline in house prices. We expect recent mortgage safeguards and a more modest rise in unemployment than predicted also limiting the number of forced sales. Still, a squeeze on real incomes and fewer international buyers would hit demand."
His short-term model points to house prices stabilizing at an annual rate of 2 percent at the end of this year and he predicts that, in the event of inflationary pressure caused by a no-deal Brexit, the Monetary Policy Committee would cut interest rates rather than hike them as Carney suggested.
Neal Hudson, founder of researcher Residential Analysts: "We really don't know what next year will look like, whether it will be a hard Brexit or coming back from the precipice. Carney was talking about a worst-case scenario and a hard Brexit with rising interest rates and unemployment. 35 percent is probably overdoing it." Hudson predicts that the correction may be more than 5 percent but less than 35 percent. "It won't be pretty in the event we head down the hard Brexit route."
Simon Rubinsohn, chief economist at the Royal Institution of Chartered Surveyors: "This was a conversation with the Cabinet and it was quite legitimate to explore the possibilities of what could happen. It has been presented as a forecast and it shouldn't be taken as one." Rubinsohn said there's more caution on the part of sellers and buyers, and this adds to uncertainty in the market. The danger is that developers will delay new projects, and there is a risk that the narrative could alter the mentality of buyers.
"Even if you are a bit gloomy, it's hard to see prices falling to that extent," he said. "In the event of hard Brexit the risk is that values in London and the South East could soften further but the U.K. as whole will probably be O.K."