Ferrari Picks 499 `Lucky' Monza Supercar Customers: Show Updater
(Bloomberg) -- The auto industry -- a slice of it at least -- converges in France this week for the biennial Paris Motor Show, where executives are showing off electric cars for the masses, robo-cars for the future and the self-proclaimed quickest car in the world.
The Paris event is Europe's largest this year. But it's lost some luster as manufacturers opt for techy settings to unveil their Tesla killers. Volkswagen AG, Fiat Chrysler Automobiles NV and Nissan Motor Co. are skipping this year, along with Ford Motor Co. There's still plenty to watch for, as automakers fight through a range of headwinds, from trade wars to Brexit to emissions regulation to a slowing Chinese market for cars -- not to mention the staggering challenges of electrification, automation and mobility services like car sharing.
We're following the developments in real time. Time stamps are local for Paris.
Ferrari Picks Monza Buyers (4:04 p.m.)
Ferrari NV hand-picked 499 of its most loyal customers to get the chance to buy one its 1.6 million-euro ($1.85 million) Monza supercar. The chosen can opt for either the one- or two-seat version, Enrico Galliera, the company's head of sales and marketing, said Tuesday in an interview with Bloomberg Television.
Ferrari styles itself as a luxury-goods company as much as an automaker, and the air of exclusivity it's cultivating around the Monza is similar to the strategy used by companies such as Hermes International in selling $10,000-plus Birkin handbags. Limiting the number of products available just enhances their appeal to would-be buyers.
The carbon-fiber, 810-horsepower Monza carries a 12-cylinder engine and will be capable of reaching 100 kilometers (62.1 miles) per hour in less than three seconds.
Krueger on Brexit (2:10 p.m.)
BMW CEO Harald Krueger went further than his counterpart at PSA, warning that if the U.K. and EU fail to get a deal on Brexit, the German manufacturer "would be forced to build in the Netherlands."
"If there is no solution, then there will only be losers on both sides," he told reporters. "We are preparing for a difficult situation with Brexit."
BMW's U.K. production comes out of its Oxford plant, which makes the company's Mini line of cars. The company has a contract manufacturing plant with VDL Nedcar in Born, Netherlands. Executives have said in the past that the absence of a trade accord between the U.K. and the EU would disrupt the manufacturer's supply chain and could add levies to car imports.
Separately, sales chief Pieter Nota said BMW could one day make more money selling data and services than cars.
"I wouldn't say it's decades away. I would say multiple years," Nota said in an interview. After joining BMW at the beginning of the year, he is tasked with turning around sluggish sales, and bringing the company back to number one in the luxury market, a title it lost to Daimler AG in 2016.
The fallout from VW's emissions crisis hit European deliveries as German car registrations tumbled 31 percent in September. The likely culprit is the switch to the new WLTP testing procedure. Volkswagen, which has been most vocal about the issue, saw its namesake brand drop 62 percent, while Audi and Porsche sales plunged 78 percent and 76 percent, respectively, according to German motor vehicle office KBA. Meanwhile, the BMW brand jumped 12 percent.
In August, European registrations had surged as manufacturers rushed to beat the deadline.
Tavares on Brexit (12:00 p.m.)
PSA Group CEO Carlos Tavares pleaded for a deal between the U.K. and the European Union on Brexit, saying the absence of an accord on trade would trigger dire consequences. "There needs to be a deal," he told reporters. "If there isn't one, my responsibility will be to protect my company."
In the event of a so-called hard Brexit, the maker of Peugeot, Citroen and DS vehicles would enter into talks with unions in the U.K. before taking any tough decisions on production, Tavares said. While acknowledging the real prospect of bottlenecks at border crossings, he said it's "too early" to start worrying. That could happen in January.
"It's clear that U.K. consumers aren't too interested in standards for tomatoes or the size of bananas," the executive said. "Yet it would make good sense to get a deal."
The U.K. is set to leave the EU on March 29. PSA has factories on both sides of the English Channel after acquiring from General Motors Co. last year the Vauxhall brand, which makes vehicles in Luton and Ellesmere Port in England.
Ghosn on Nafta (10:30 a.m.)
Renault Chief Executive Officer Carlos Ghosn expressed "relief" about the renewed Nafta deal, saying carmakers, including the Renault-Nissan-Mitsubishi Alliance, would resume investments in North America. "The market is alive again through this deal, and we're very happy," Ghosn told Bloomberg TV's Caroline Connan in an interview.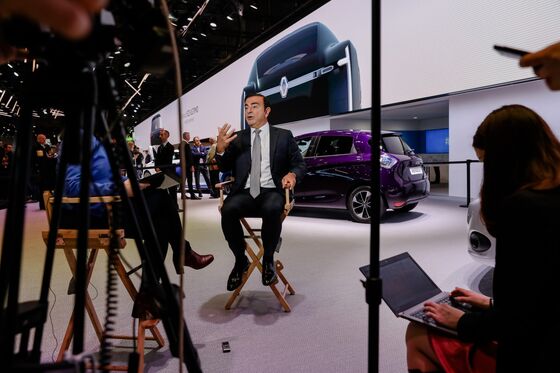 The Alliance will increase production in the wake of the last-minute pact, called U.S.-Mexico-Canada Agreement, or USMCA, that'll cover a region that trades more than $1 trillion annually.
Separately, Daimler CEO Dieter Zetsche said the world's biggest luxury carmaker and commercial vehicles manufacturer is considering an expansion of engine-making in North America, though no decision has been taken yet. Daimler makes engines for heavy trucks in Mexico.
The world's second-biggest luxury carmaker proffered tech gizmos for its revamped 3-Series sedan to win over upwardly mobile professionals for the 3-Series sedans, who've been deserting the segment for rugged sport utility vehicles. A language assistant learns the driver's preferences and the smartphone takes over car-key functions like entering and starting the vehicle. Those are just two ways designed to ease the strain of driving.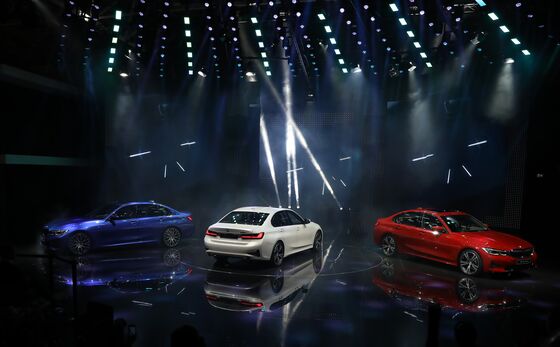 BMW has a lot riding on the model, which head of development Klaus Froehlich called the company's "heart and soul" during it Paris press conference, and one that remains its best-selling car. The Munich-based carmaker need more sales momentum to make good on a promise to pull ahead of rival Mercedes again by 2020.
Brexit, New Nafta (9:10 a.m.)
Trade concerns have buffeted automaker shares this year, as the U.K. grinds toward an uncertain exit from the European Union and President Trump seeks to rewrite the rule book with the rest of the world.
In Paris, Toyota European President Johan van Zyl added to a chorus that already includes Jaguar Land Rover and BMW, saying a hard Brexit would force temporary factory shutdowns and put about 60 million pounds ($78 million) a week in revenue at risk. "We make 600 cars a day in the U.K., five days a week," Johan van Zyl said in an interview. "At around 20,000 pounds revenue per car, you can work it out. If you disrupt that, it's very concerning."
There was more positive reaction to President Trump's securing a successor to the Nafta agreement. Peugeot CEO Carlos Tavares said the timing is perfect for the company's potential comeback in the U.S. The trade accord is part of what the carmaker needs to know before making the final decision, in coming months he said. Daimler CEO Dieter Zetsche said the Mercedes-Benz maker would consider expanding engine operations in the U.S.
At any given car show, BMW AG, Audi and Mercedes-Benz can expect to hog much of the limelight with shiny luxury models and futuristic prototypes. In Paris, they'll have a hard time papering over a range of uncomfortable issues.
The world premiere of BMW's 3-Series, was already upstaged last week when the world's second-biggest premium carmaker issued its first profit warning in a decade. A day later Daimler AG, trying to get ahead of rapid changes confronting the industry, jumped ahead of schedule to name a new chief executive officer after 12 years under Dieter Zetsche. At Audi, suspended CEO Rupert Stadler remains in custody over his alleged involvement in the Volkswagen AG brand's diesel-emission cheating.
Combined, it's shaping up to be a difficult show for the German luxury trio. To top things off, German carmakers had another showdown at home Monday with the government over diesel emissions that threaten to result in a number of city driving bans, while battling profit-sapping fallout from Europe's new emissions testing.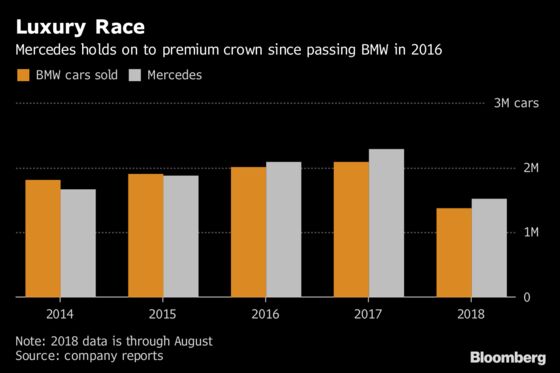 This leaves room for France's PSA Group, maker of the Peugeot, Citroen and premium DS brands, and Renault SA to show off on their home-turf, starting with the Peugeot e-Legend. The electric, self-driving prototype taps nostalgia with the retro look of 1969's 504 Coupe. It's PSA's attempt to prove the new era of electrification and autonomous cars needn't mean indistinguishable robotaxi shells -- where cool apps skim off the profits.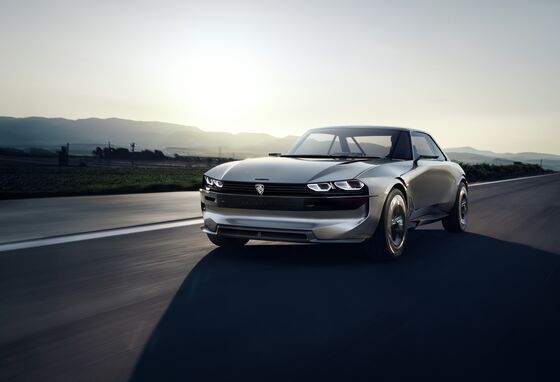 Peugeot's cheaper brand Citroen, known for quirky and colorful designs, will unveil a hybrid-electric version of its C5 Aircross sport utility vehicle, as rival Renault shows a premium robotaxi concept, its third autonomous prototype this year after a six-seater designed for car-sharing, and a delivery vehicle that can convert into a food truck. The mass-market manufacturer plans to introduce a robotaxi service by 2022. Renault on Monday also announced plans to begin selling a battery-powered car in China next year.
Click here to read about Renault's electric-car plans in China
SUVs are so popular some carmakers aren't making sedans anymore. BMW counters the trend with a revamped 3-Series, a key plank in BMW's plan to unseat arch rival Mercedes from the global luxury lead by 2020. Mercedes is focusing on the revamped 7-seater GLE SUV and will give the public its first glimpse of the EQC electric crossover unveiled in Stockholm last month. Audi isn't shipping any all-new models to the French capital this time, but will likewise show the e-tron crossover, the first of its electric lineup, that also had its premiere in September.
For supercar lovers, Ferrari will come clean on the pricing of the open-top Monza, billed at the closest thing to a Formula 1 car available to the public. The carbon-fiber, 810-horsepower Monza comes in one-seat and two-seat version. Bugatti's Divo, priced at 5 million euros ($5.8 million), is a similarly race-track going, but permitting to drive on public roads.