Carlos Slim, Bondholders Among Biggest Mexico Airport Losers
(Bloomberg) -- The list of potential losers from the cancellation of Mexico City's $13 billion airport project starts with the nation's richest man and goes on to embrace businesses, investors, airlines and passengers.
Incoming President Andres Manuel Lopez Obrador scrapped the partially built project Monday after an informal referendum last week implied most Mexicans opposed continued construction. The decision sent markets tumbling.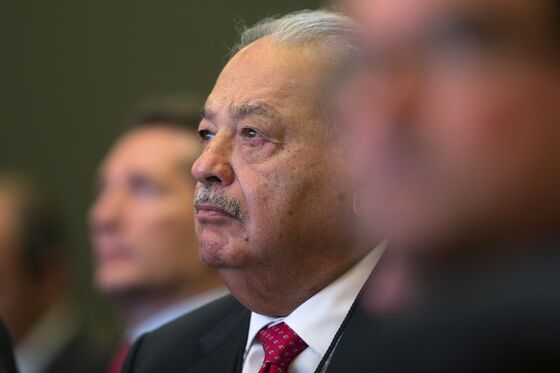 Among those set to lose are billionaire Carlos Slim, who owns most of a $1.6 billion Fibra E-- a hybrid between a master-limited partnership and a real estate investment trust -- issued by the group building the airport. The cancellation also leaves $6 billion in bonds up in the air, as well as operational difficulties for airlines and broader risk to the market and nation. Many investors are now concerned that Lopez Obrador will take similar decisions over oil contracts or mining projects.
"The initial friendly approach towards the markets and the private sector is now being questioned more squarely," Jorge Mariscal, the emerging markets chief investment officer at UBS Global Wealth Management, said in an interview from New York. "It injects a whole lot more uncertainty into the Mexican outlook."
Here are those set to lose out from Monday's announcement:
The airport group raised $1.6 billion through the IPO of the Fibra E, most of which is owned through the pension fund of Slim's Inbursa. While the Fibra E is a complex contract and unwinding it has no precedent, the initial prospectus says that in the event of a cancellation, holders will receive revenue from the existing airport starting as soon as January, at least two years earlier than payments would have started from the new airport.
Slim's construction company is also heavily involved in the project. His Grupo Carso teamed up with Empresas ICA and others to build the futuristic terminal designed by renowned British architect Norman Foster, a contract worth close to $4 billion. Carso is also building one of the runways with an estimated cost of about $400 million when the contract was awarded.
While Lopez Obrador has said that he won't ask for a haircut from bondholders, exactly what will happen isn't clear. The incoming administration has said that funds exist to protect the investments, and that it will enter into negotiations with investors to come to a mutually satisfactory outcome, but many investors are skeptical.
"There will have to be clarifications on methods, process," said Michael Roche, a fixed income strategist at Seaport Global Holdings in New York. "Since the Mexican government is on both sides -- equity investor and governing authority withdrawing the concession -- just who will be overseeing the process?"
Airlines and Airport Operators
Airport operators OMA, Asur and Gap, which operate almost all the other commercial airports in the nation, were looking forward to a new hub for the industry. OMA fell as much as 6.9 percent on Monday, the most since April 2013. Asur and Gap slid to the lowest in three months and seven months respectively.
Mexico's airlines -- Aeromexico, Volaris and Interjet -- had been very vocal in the need to continue with the construction of the new airport, complaining that the existing Benito Juarez facility is saturated. The overcrowding means it's hard for them to add more flights and frequencies.
For many investors, the airport decision represented the first test for Lopez Obrador -- one, in their eyes, he's just failed. Many warn that cancellation sets a dangerous precedent, and that the financial asset weakness immediately after the announcement may persist. On Tuesday, bonds resumed their selloff and the Mexbol stock index cemented a third day of losses. JPMorgan analysts cut their expectations for 2019 GDP growth to 1.9 percent from 2.4 percent.
"We expect next year's GDP to be hit through subdued business sentiment and other knock-on effects from policy uncertainty," the analysts wrote.
Mexico's business chamber CCE warned that economic development and infrastructure are complex issues and shouldn't be put to a public referendum. Adhering to a consultation may hurt private sector investment projects in the future, and may even hurt funding for some of Lopez Obrador's own infrastructure projects such as the proposed Maya Train, according to UBS's Mariscal.
One of the biggest hits may be to Mexico's viability as a regional airline hub. Last year, the Benito Juarez airport moved almost 45 million passengers, well more than its 35 million capacity. Stress on the airport has caused delays and makes it difficult for airlines to increase flights. Lopez Obrador's plan to add runways at the existing Santa Lucia airport may hit snags.
Federico Patino, head of Grupo Aeroportuario Ciudad de Mexico, which oversees construction of the Texcoco facilities, said work will continue under the current terms at least until Nov. 30, and that there is no information yet on whether the current contractors could move to Santa Lucia.