Gaunt and Graying Ghosn Fights His Corner in Court Hearing
(Bloomberg) -- Since his stunning arrest and detention in November on allegations of financial misconduct, Carlos Ghosn has lost his freedom, his job and a noticeable amount of weight. What he has maintained is a fiery determination to fight for his reputation.
That zeal was on display on Tuesday, when Ghosn arrived in a Tokyo court for his first appearance since being swept up by authorities on a Tokyo airfield on Nov. 19. Previously an omnipresent and globetrotting renaissance man, Ghosn had remained totally out of sight, fueling speculation about his physical and emotional state after spending 50 days behind bars.
Ghosn arrived gaunt, handcuffed and with a rope around his waist, and by the end of his first hearing, his team of lawyers disclosed another daunting prospect for their client: with an actual trial possibly as far as six months way, Ghosn might spend the entire time until then locked away. After the hearing, Ghosn's lawyers filed an appeal on his ongoing detention, with a decision set for Jan. 11, when his current period ends.
There's more at stake than reputation and freedom. Ghosn was head of the Renault-Nissan car alliance, which has been rudderless since his arrest. The leadership vacuum potentially spells trouble for the French side, which has enjoyed an outsized proportion of control of the partnership under Ghosn's protecting hand. The French state, Renault's biggest shareholder, has been keen to maintain the status quo, while Nissan has said now is the right time to review the power distribution inside the world's largest car alliance.
In his defense, the disgraced executive offered a two-pronged response to the allegations. Ghosn said that he had been wrongly accused and unfairly detained, calling the allegations "meritless and unsubstantiated." But he also painted the picture of a loyal company man who wouldn't dream of harming a corporation for which he felt "a genuine love and appreciation."
Ghosn said his actions were backed by managers inside the company as well as external lawyers. For example, his retirement payments were reviewed by legal experts inside Nissan as well as independent lawyers, and showed no intention of breaking the law. Another accusation -- that he rolled personal investment losses onto Nissan -- came to no cost to the company, Ghosn said. All told, Ghosn said he always acted with integrity and had never been accused of any wrongdoing in his professional career.
Once feted as Nissan's savior, Ghosn was a shadow of the jet-setting manager he came to represent in his years atop the car industry. Besides the weight loss and graying hair, Ghosn's business shoes had been replaced by plastic slippers. Lawyers later provided some insight into their client's daily routine, saying Ghosn has been granted a larger room and what they called a western-style bed.
After weeks out of the public eye, the executive's public defense was a much-anticipated spectacle: Some 1,122 tickets were handed out Tuesday in a lottery to attend Ghosn's hearing -- about 80 times oversubscribed -- for the 14 public seats available in the courtroom gallery.
Despite Ghosn's avowals of innocence, accusations against him have layered up and his confinement has repeatedly been extended. He was re-arrested on fresh charges on Dec. 21, just when it looked like he may be able to apply for bail.
Judge Yuichi Tada said Tuesday that Ghosn, as someone with multiple bases overseas, is being held because there's a risk he'll leave the country and tamper with evidence. Ghosn's legal team argued there's no chance of that, partly because he's well known as the Renault boss.
While Ghosn was dismissed as Nissan chairman shortly after his detention, Renault has kept him on as chairman and chief executive officer because it needs evidence of wrongdoing. On Tuesday, French Labor Minister Muriel Penicaud said in a CNews television interview that presumption of innocence must be respected.
"If and only if he were blocked lastingly would we draw conclusions. But we aren't there today," French Finance Minister Bruno Le Maire said on Sunday.
Despite Ghosn's professed allegiance to Nissan, his former employer said its own probe was widening. The Japanese automaker uncovered substantial and convincing evidence of misconduct and the board unanimously voted to oust Ghosn, Nissan said in a statement. "Our investigation is ongoing, and its scope continues to broaden," the company said.
Ghosn said four major companies tried to recruit him while he was Nissan CEO. He even named some of the people who reached out to him -- Bill Ford at Ford Motor Co., and Steve Rattner, the Obama administration's car czar at the time, who tapped Ghosn for a position at General Motors Co.
The disgraced executive said he turned them all down. "Even though their proposals were very attractive, I could not in good conscience abandon Nissan while we were in the midst of our turnaround," he said in Tuesday's statement.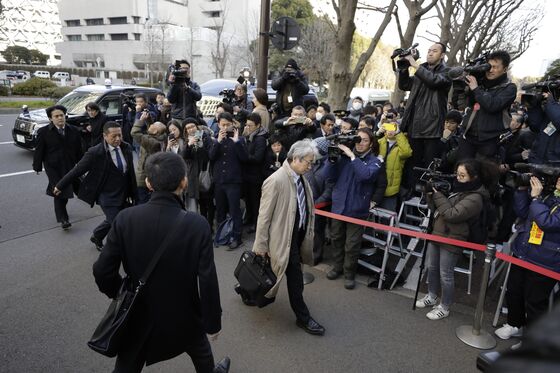 If proven, each of Ghosn's alleged offenses may carry a sentence of as much as 10 years, prosecutors have said. Nissan has also accused Ghosn of misusing company funds, including over homes from Brazil to Lebanon and hiring his sister on an advisory contract.