Poland's Premier Finds a Skeleton in His Closet
(Bloomberg) -- For a man who's had such a meteoric rise through politics, this weekend is supposed to be the crowning glory for Polish Prime Minister Mateusz Morawiecki. He's implored voters to endorse the "Poland First" patriotism that turned his country into a prototype for Donald Trump.

Instead, local elections are shaping up to be a critical moment for his career, Poland, and even Europe after his past as a prominent banker caught up with his current job as head of the country's nationalist government.
Days before Poles cast their ballots, Morawiecki has been embroiled in a deepening scandal over recordings of private conversations in Warsaw restaurants five years ago when he ran the Polish business of Banco Santander SA. Disclosures of such secretly recorded candor by his political opponents paved the way for his party to win power in 2015.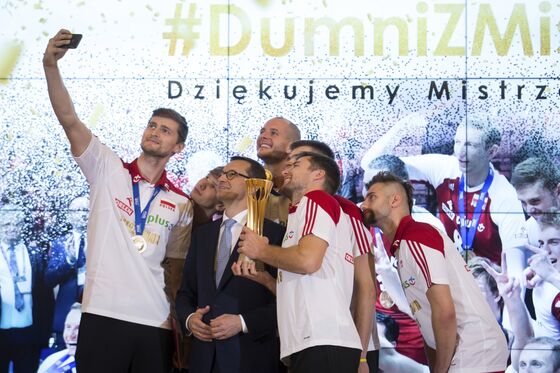 In them, he's heard making expletive-laden remarks about having to fawn over Jews and rich foreigners to get their money. He suggests Poles one day might be grateful to "work for a bowl of rice." The latest content, reported this week, had him joking about injuries to a Formula One driver who was sponsored by his bank. Morawiecki apologized for some of the comments, though says their publication is an attempt to smear him.
The outcry, albeit spurred by the opposition, has now made Sunday's vote potentially a watershed for Poland, a key protagonist in the widening east-west feud that threatens to undermine the European Union.
For the governing Law & Justice party, it will be a judgement on whether Morawiecki is ultimately fit to succeed Poland's most powerful politician, its kingpin Jaroslaw Kaczynski. More widely, it will be a test of the party's grip on power before parliamentary elections next year.
"These aren't mere scratches on the premier's public image, they undermine his core values, his truthfulness," Anna Materska-Sosnowska, a political scientist at Warsaw University. "Depending on how the elections go, Morawiecki can either lose his post over the longer term or strengthen his position because the party will decide that it can't turn back."
Morawiecki, 50, was promoted by Kaczynski in December last year after overseeing the economy. This Sunday will be the first time he's faced voters. Poles will vote in 16 regions, including Warsaw, a bastion of resistance to forces that have turned Poland from a paradigm of economic transformation into a petri dish for a populist backlash. So far, polls show Morawiecki's popularity is holding up.
Sufficient gains for Law & Justice -- it currently holds only one region -- would see the party strengthen before seeking re-election nationally in 2019. Failure to gain much ground will raise questions within the party about Morawiecki suitability to be Kaczynski's heir apparent.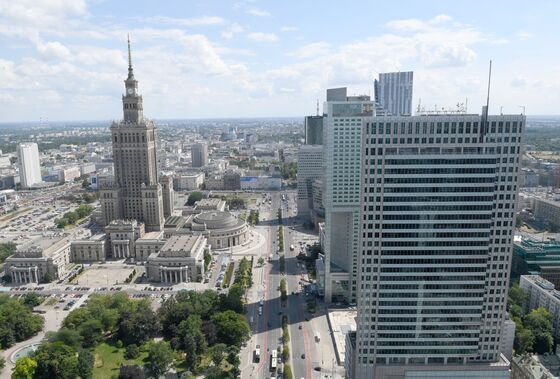 Nicknamed "The Machine" among his staff, Morawiecki spent the past six weeks holding over 100 meetings in town squares and schools across the country of 38 million. He told poorer regions they would get more money and praised farmers and firemen for their patriotic trust in God and the homeland. On Wednesday, after the latest reports of his taped comments, he was back opening roads, talking to businessmen and meeting a village women's group before heading to the EU summit in Brussels.
It's made him the undisputed face of the nationalists governing the country, but also the lightning rod for opponents who say Poland is in danger of becoming a rogue European state at risk of losing western allies.
"Family, work, fatherland, God -- these are real values you cultivate on this earth," Morawiecki told the mostly elderly crowd in the eastern Polish town of Radzyn Podlaski this month, striking a contrasting figure in his sharp navy suit to some wearing faded sports attire. "We work for the Polish nation and we also best represent the Polish village."
But away from the rhetoric, it's his private comments from 2013 that are haunting him and Law & Justice has gone into overdrive to try and mitigate the fallout.
According to the illegal recordings, carried out secretly by waiters at top Warsaw restaurants, Morawiecki is heard ranting about racing driver Robert Kubica, who "luckily broke his arm once, then again" in a development that saved his former bank sponsorship money. A day after the report, Kubica, now a Formula One test driver, was courted by state-run oil company PKN Orlen SA.
The transcripts obtained in court and published by website Onet.pl also showed Morawiecki discussing favors for political figures, something his party denies. Law & Justice said the anti-government media was serving up "re-fried cutlets" that Poles don't want to eat.

In 2014, Law & Justice -- then in the opposition -- touted the recordings as evidence of how disconnected government elites were from ordinary Poles. A year later, Kaczynski's group won a general election with 37 percent of the popular vote, which translated into a parliamentary majority as several other parties fell just below the threshold needed to win seats.
The problem is that on the tapes Morawiecki "comes out as a member of the establishment," said Marek Migalski, a political scientist at Silesian University in Katowice, and a former Law & Justice lawmaker. "It represents all the things Kaczynski has been fighting against. This may test Kaczynski's political affection for Morawiecki."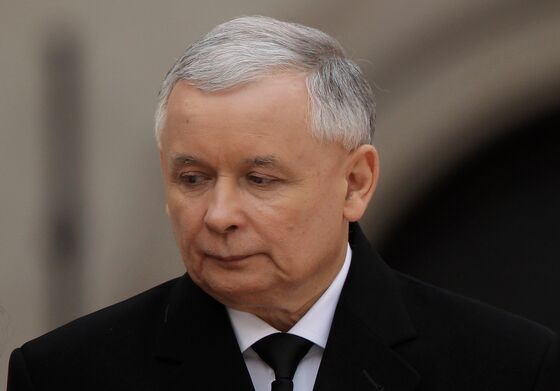 A slick, smart, English-speaking former finance executive, Morawiecki didn't participate in the 2015 election campaign that brought Law & Justice to power, but joined the cabinet as an independent to shore up its economic credibility. Within three years, the head of Poland's second-largest foreign-owned bank became a politician criticizing foreign companies for "colonizing" his country.
His brief as prime minister was to ease tension with the EU over controversial legislation on the independence of the courts. Since his appointment, the standoff has worsened – the EU has now sued Poland. He also oversaw a law making it illegal to suggest Poland had a role in the Holocaust that outraged the U.S. and Israel before being watered down.
Morawiecki only added to the tension at first. In a television interview after being picked for premier, he said his "dream" was to transform the EU and re-Christianize it. He listed Jews among the "perpetrators" of Nazi-era crimes as he tried to de-escalate the row over the Holocaust law.
Indeed, Morawiecki has tapped into the anger over the perceived cronyism of elites that Law & Justice harnessed so well to win an unprecedented majority in parliament. He will now find out if his party can do no wrong among its supporters.
At the rally in Radzyn Podlaski, supporters holding paper flags with "Poland Is One" slogans seemed happy to accept Morawiecki's accusation that it was foreign-owned media going after him. Daniel Wertejuk, 35, who spent the last 15 years in a wheelchair after a car accident, thanked him for cutting hospital waiting times.
"What this government is doing and what's changing now is more convincing than what's been in the past," said Wertejuk. "These days everybody uses a strong word from time to time."