Carbon Traders Eye Decade High as Permit Shortage Buoys Demand
(Bloomberg) -- Carbon prices are poised to retest decade highs on signs that demand for emission rights remains robust a week after companies settled their annual European Union bill for greenhouse gas output.
Allowances have climbed about 3% since April 30, the deadline for factories, power stations and airlines in the EU's carbon trading system to hand in permits to match the previous year's emissions. Carbon is within 1 euro ($1.12) of the peak reached in April, when prices hit the highest level since July 2008.
"The move up surprised many and that only exacerbated the intensity of the move," said Jan Kresnik, a portfolio manager at Belektron, a brokerage in Ljubljana, Slovenia.
Lawmakers' efforts to reduce a glut of permits that suppressed prices for years appear to be working, Kresnik said, adding that supply at daily auctions of emission allowances has been "well bid."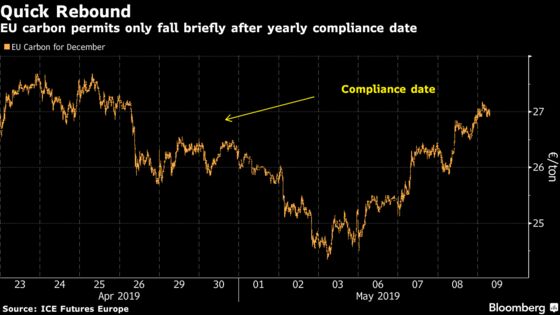 The cover ratio in auctions has recovered, signaling stronger demand: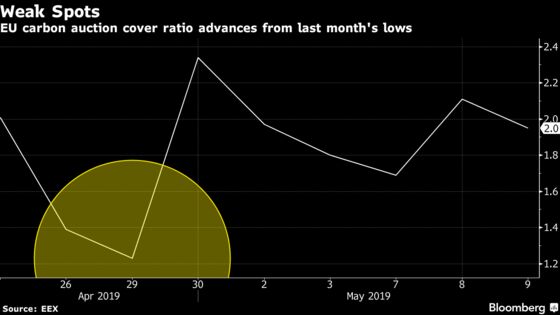 Allowances are expected to trade in a range of 24-28 euros a ton for the next few weeks: Trevor Sikorski, an analyst at Energy Aspects Ltd.

On the decreasing supply of allowances: "We are going to see the market moving from around 1.7 billion tons of surplus in 2018 to 1 billion tons by the end of 2020," Sikorski says at a Montel conference in Dusseldorf.
"Everybody is bullish on carbon. We estimate EU emissions allowance prices can surpass 30 euros a ton in 2020."

BloombergNEF: EU ETS Compliance Database, 2005-20