Carbon Traders Beware: Here Are the Risks as Prices Triple
(Bloomberg) -- European carbon futures may be trading at decade highs and outperforming every other major commodity, but the rally has its pitfalls.
The rights to pollute the atmosphere with carbon dioxide have tripled this year to more than 25 euros ($29) per ton, buoyed by incoming regulatory measures to cut the permits in circulation. With that kind of fundamental market overhaul, many analysts and traders see further gains to come, though cracks remain. Here are four:
Speculative fervor. While volumes have soared, open interest, or the amount of outstanding contracts, is the lowest in at least five years on ICE Futures Europe, the dominant exchange for carbon trading. This can signal more short-term interest than hedging or industry business. Prices could drop back to 15 euros a ton should speculators exit simultaneously, according to Ingo Ramming, head of corporate & investor solutions at Commerzbank AG in London. The picture is different on ICE's rival the European Energy Exchange, where interest in the market has jumped in the past year.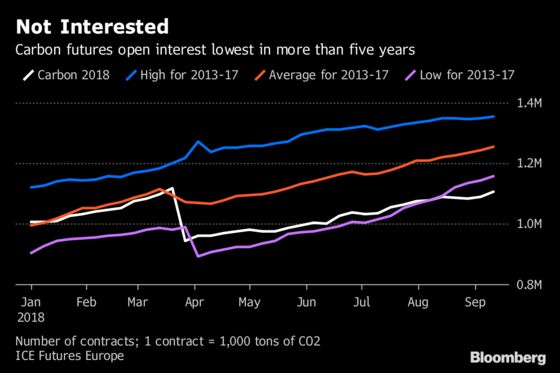 Reform really hurts. Coal use in German power generation is holding up despite carbon's surge, but at some point rising costs may mean utilities decide enough is enough and stop burning the fuel. While that would be good for the climate, it would kill demand for permits. According to UBS Group AG, this risk mostly applies after 2020, after which prices could crash back to 5 euros a ton.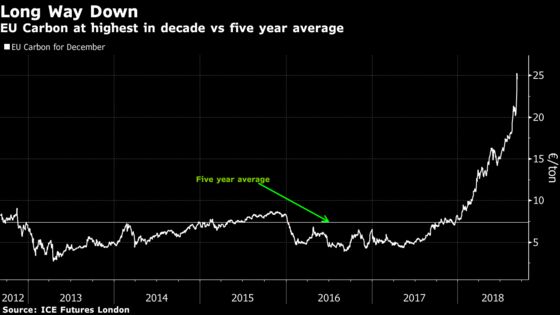 Options market. A portion of carbon's rise has been driven by sellers of calls as they buy futures to hedge their positions. On Sept. 19, a batch of options expire, which may mean some selling as trades are unwound. A bigger expiry lies at year-end. Put option volumes are also on the rise, signaling an increased appetite for downside protection.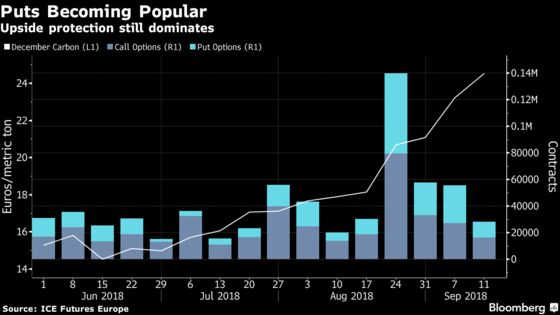 Market reserve. One brake on runaway prices may lie in the European Union's very own reform of its market. While the focus on the so-called Market Stability Reserve has been on its ability to withdraw permits when prices are low, it can also put allowances back in circulation under pre-set conditions. That can occur if, "for more than six consecutive months," prices are more than three times the average of the preceding two years. The European Commission is monitoring the surge, but prices are yet to meet the criteria for an intervention, the regulator said Wednesday.