Carbon Pollution Costs Are Likely to Rise Again in Europe
(Bloomberg) -- The cost of spewing greenhouse gases into the atmosphere is likely to rise close to a record this year in Europe as policy makers step up efforts to curb the pollution causing climate change.
Emission permits in the European Union's carbon market will probably increase about a third in 2020, marking a fourth consecutive year of increases in the annual average, according to a survey of nine traders and analysts covering the $66 billion market.
Higher carbon costs have already pushed electricity generators to switch off coal plants and use natural gas more of the time. Another year of gains in the market will complement efforts by lawmakers across the region to meet climate commitments in the Paris Agreement and respond to a growing clamor from environmentalists for action.
"The visibility we are starting to see on policy is helpful for industry and investors," said Robert Pulleyn, a utilities analyst at Morgan Stanley in London. "High carbon prices are continuing to drive coal out and incentivize renewables development. Industry is starting to invest in technology to reduce carbon emissions."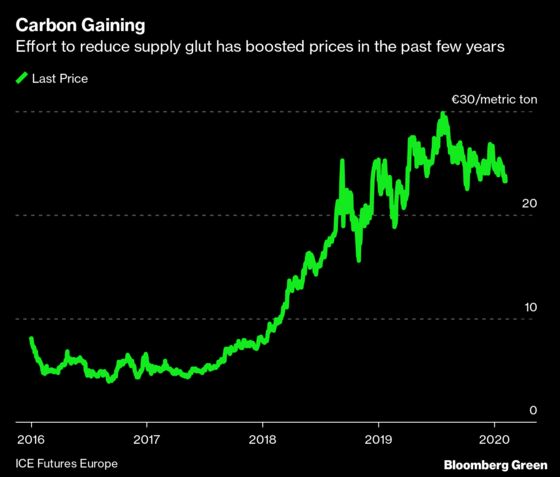 One of the reasons traders are buying is the market's new stability reserve, which was installed last year to reduce the volume of carbon allowances being sold. For years, a glut of permits built up in the system depressed prices, making the carbon market irrelevant as a tool to fight climate change. Carbon averaged as little as 5.35 euros in 2016, then EU officials started to act. The reserve they designed dealt with the oversupply and have sent prices on an upward trajectory ever since.
The reserve, or set-aside, is intended to tighten the market and raise the cost of allowances. A key measure of the price tension between supply and demand for allowances will almost double during the next three years to 641 million tons of carbon dioxide compared with the previous three-year period, according to Jahn Olsen, an analyst tracking carbon prices at BloombergNEF in London. That's the equivalent of about 19 billion euros ($21 billion) if the survey on price proves correct.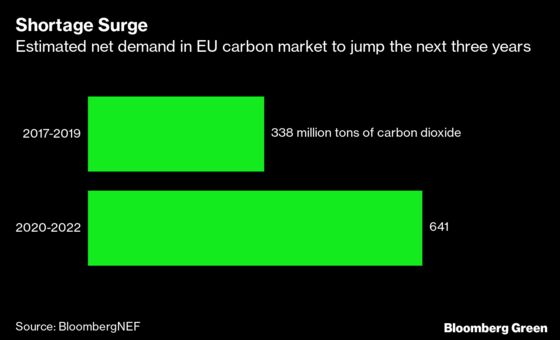 Traders and analysts participating in the survey expect prices of 30 euros a ton by the end of this year, just shy of the record of 31 euros reached in 2006, two years after the market started.
Carbon averaged 24.92 euros a ton last year, more than four times the level prevailing in 2016 before the reserve policy took hold. Some analysts expect carbon will more than double from its current, according to the survey.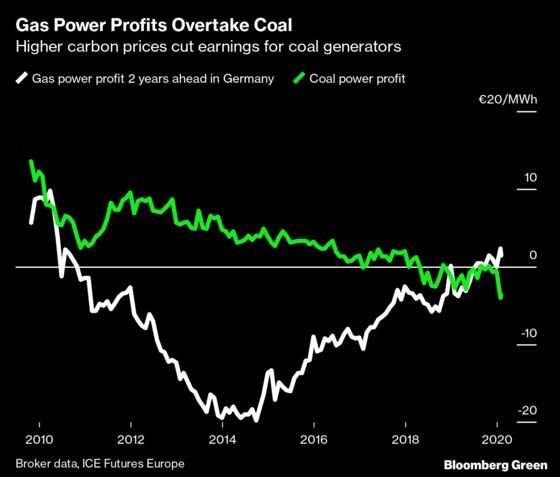 European Commission President Ursula von der Leyen has put climate action at the heart of her agenda, pledging a Green Deal and to toughen the bloc's existing 2030 emissions goal. The current target is for a 40% cut in carbon pollution from 1990 levels. Policy makers are talking about a 50% or even 55% target—and how to zero out pollution by 2050.
Stronger action from the EU might include a steeper reduction in the bloc's emissions cap. Policy makers also could tighten the rules in the market reserve to pull even more allowances out of the system.
Some carbon traders including the region's biggest emitter RWE AG are now taking a longer view of the market. The German utility has hedged its needs until the middle of the decade as German lawmakers move to close all of the nation's coal power plants by 2038.
There's some signs of strength in the almost-daily auctions for allowances so far this year. Buyers have asked for twice the allowances available in 2020 compared with 1.76 times in the fourth quarter.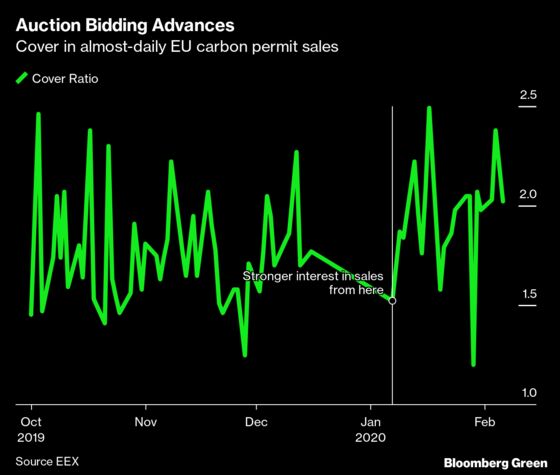 Increased carbon prices are far from certain. The analysts pointed to a number of factors that may limit demand, including:
Disappointment from last year. Some investors have exited the market after prices failed to push through 30 euros a ton in 2019. The lowest estimate in the survey was for 26 euros a ton at the end of 2020, not far above today's level.
Warmer weather has curtailed demand for natural gas and other heating fuels, reducing demand for allowances.
Britain's exit from the EU. The U.K. accounts for about 7% of the permits issued and next month will begin to sell allowances that have been held back during negotiations about its departure terms. That will boost supply.
"There's less need to buy carbon if there are fewer emissions," said Ingo Ramming, head of corporate and investor solutions at Commerzbank AG in Frankfurt, who's tracked the EU market for more than a decade. "That might deter financial investors from re-entering the carbon market."
Even so, lawmaking efforts in the EU are pointing toward higher prices, said Matthew Gray, head of power and utilities at Carbon Tracker Initiative, a research group.
"We're broadly bullish on carbon," said Gray. "In absence of recessionary pressure, we expect industrials to buy the dips and utilities to lengthen hedges beyond 2023."