Carbon Last-Gasp Bullish Bets Hit Record Before Key Brexit Vote
(Bloomberg) -- Carbon traders handled a record amount of options that pay out if the price of Europe's emission rights climbs 25 percent in a week.
The trading surge in the calls giving holders the right to buy carbon at 25 euros ($28) a ton comes at a crucial time for the carbon market. The securities expire on Dec. 12, one day after the U.K. parliament's Brexit vote is planned.
If lawmakers accept Prime Minister Theresa May's exit terms, the contracts could rally, said Bostjan Kovacevic, a trader at carbon brokerage Belektron. A no-deal Brexit could spur selling as British factories, power stations and airlines offload stockpiles of the EU permits held for future years.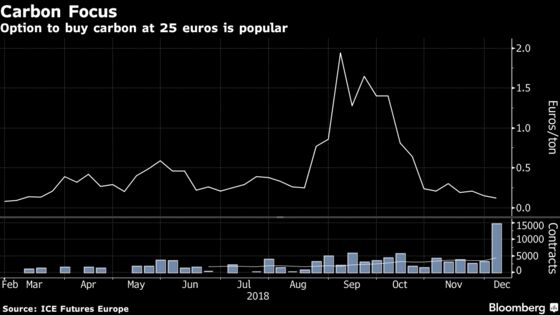 "The Brexit vote is a lottery," Kovacevic said by phone. The vote and the options expiry are potentially "two volatile events."
The December calls with a 25-euro strike price last traded at about 10 cents a ton on ICE Futures Europe. Options to buy at 20 euros, the nearest strike to the current market rate, last traded at 1.45 euros. The December futures were at 19.75 euros a ton in London Wednesday.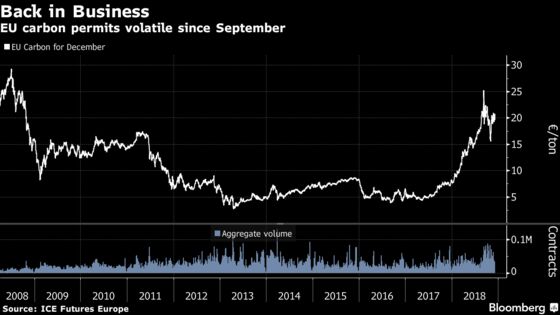 Carbon allowances have more than doubled this year, buoyed by the EU's steps to remove a long-standing glut that weighed on prices. The amount of permits sold at auction is set to drop 40 percent next year with the launch of a reserve to soak up a surplus that's built up since 2008.