Car-Share Market That Eluded BMW, Audi Lures New Rival
(Bloomberg) -- Daimler AG, Audi, and BMW AG have all seen their ambitions crushed in Stockholm, a city that's gaining notoriety as one of the toughest car-sharing markets in the world. Even so, a Japanese trading company with zero experience in the sector is betting it can succeed where others failed.
Sumitomo Corp. — a conglomerate that does everything from mining iron ore to managing supermarkets — is the latest to bet that people in Sweden's capital will prefer to rent cars for short periods when they need one, instead of owning a vehicle. The Tokyo-based company is rolling out aimo in Stockholm on Oct. 31, the same day that BMW's DriveNow pulls out.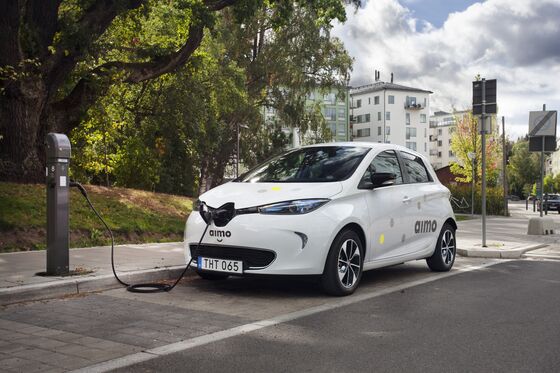 Car-sharing has already caught on in other dense, urban centers. Providers such as Zipcar Inc. in the U.S. and Times Car Plus in Japan let drivers pick up and drop off vehicles from designated parking lots and use them in hourly increments, saving them the hassle of owning an automobile or finding a rental agency. Sumitomo is the latest challenger in a shared-mobility market that will grow by 20 percent a year on average to surpass $11 billion by 2024, according to Global Market Insights.
"The reason the others failed is that they went about it the wrong way, not because Stockholm is not a good place for car sharing," Yuichi Ono, a Sumitomo manager overseeing the project, said in an interview in Tokyo this month.
Ono is betting that Sumitomo will succeed precisely because it doesn't build vehicles. While automakers tend to use their car-sharing services to advertise certain models, Sumitomo can just choose the car it judges best for the purpose, he said. Aimo will offer a completely stripped-down service: there's no sign-up fee, only one payment plan, and only one kind of car, Renault SA's all-electric Zoe.
On paper, Stockholm looks an enticing location for a car-sharing venture. The population is young, tech-savvy and growing. The Nordic country also has among the world's most supportive policy environments for the plug-in vehicles increasingly being favored for car-share fleets, according to Sumitomo.
In practice though, the city has been brutal for new entrants. Daimler's Car2Go crashed out in 2016 after less than two years, citing insufficient interest in its service. Volkswagen AG's Audi shuttered its program a year later without ever graduating from the pilot phase. DriveNow exits amid lower-than-anticipated demand and higher-than-expected costs.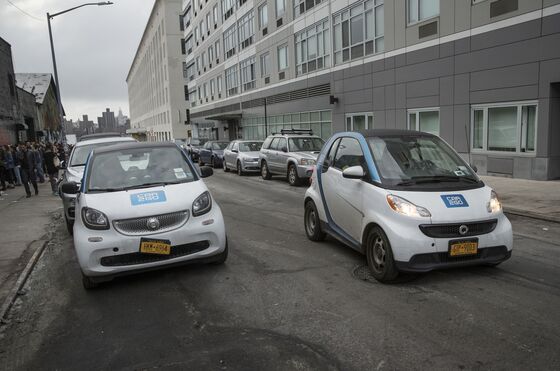 The biggest obstacle may have been the incumbent, Sweden's own Sunfleet. Run by Volvo Cars, it dominates the market with some 1,500 vehicles in 50 cities nationwide, and around 76,000 registered users. In operation since 1998, Sunfleet more closely resembles a traditional car-rental business, requiring customers to reserve a car and then pick it up and drop it off at pre-designated locations. Volvo is introducing a new brand called M from next spring and incorporating artificial intelligence to learn users' preferences. Sunfleet will be integrated into M in 2019.
By tailoring aimo for casual use, Sumitomo is betting that its service can complement rather than compete with Sunfleet. As long as you have the aimo app, a valid driver's license and a credit card, you can locate a car whenever you get the urge, and ditch it anywhere inside the service area when you're done. An example Ono gives is if a friend asks you to meet at a bar on the other side of town: you can drive over in an aimo but still drink because you don't need to drive it back.
Sumitomo sees getting the aimo name known as its first challenge, although BMW's retreat should help if some of DriveNow's 32,000-odd customers migrate to the new service. The Japanese company expects to take losses initially in order to establish a foothold in Stockholm, with a target of 50,000 users by 2022, and global ambitions beyond that.
"If we have success in Stockholm and can then scale up by applying the same strategy to other markets, we have a chance of victory," Ono said. "Our goal isn't just profit. Our ambitions are much bigger and longer-term than that."