Capri Cuts Forecast, Shuts Stores in China on Virus Outbreak
(Bloomberg) -- Capri Holdings Ltd., the owner of the Michael Kors, Versace and Jimmy Choo brands, cut its revenue forecast for the fiscal full year, citing the material impact of the China coronavirus outbreak on its business.
Capri also closed about 150 of its 225 stores in mainland China as of Feb. 5, while those that remain open are operating with reduced hours and a significant drop in customer visits, it said. The company expects the situation to curb revenue by about $100 million and earnings per share by 40 cents to 45 cents for the fourth quarter and full year, which both end in March.
"This estimate could materially change if the severity of the situation in China worsens," John Idol, chairman and chief executive officer, said in a statement. "The situation in China and the measures being taken to protect the population are having a material impact on our business."
Capri and other businesses that made significant investments in China to court a rising middle class now have to mitigate the impact of the coronavirus, which has stifled travel and commerce throughout the country. Ralph Lauren Corp. temporarily closed about half of its 110 stores in China, it said Tuesday, while McDonald's Corp. and Starbucks Corp. also shuttered locations as the nation struggles to contain the outbreak.
Still, Capri's shares were up as much as 12% Wednesday morning after the company also posted third-quarter results that topped analysts' estimates. They had slumped 19% this year through Tuesday.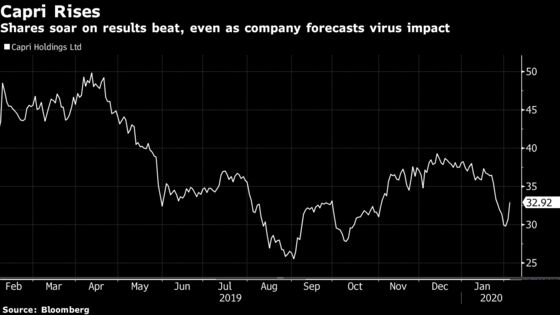 Supply chain disruptions may also impact Capri's forecast, the company said. Given the lower-than-normal visibility, Capri won't be providing forecasts for brand comparable store sales in the fourth quarter.
China represents a bigger portion of the Versace business than its other labels Jimmy Choo and Michael Kors, according to the company. Capri hopes to expand Italian fashion label Versace, which it bought in 2018, into a $2 billion business and add more than 100 new stores. More than half of the label's existing stores are in Asia. For Michael Kors, less than 10% of its goods are made in China.
Travel restrictions could hurt Capri's business outside China too, as all three of its fashion labels benefit from tourist traffic. Michael Kors operates flagship stores in major tourism hubs including New York, Paris, London, Tokyo and Hong Kong.
"The situation is very serious and dynamic," said Idol. "We can only hope for a speedy and positive solution to this crisis."
For more details, see here.