Capitec CEO Urges Ramaphosa to Get Everyone Focused on Economy
(Bloomberg) -- The chief executive officer of South Africa's best performing bank stock this century has advice for President Cyril Ramaphosa: rally everyone around the goal of uplifting economic growth. The rest will follow.
"If I was in President Ramaphosa's shoes I would only do one thing," Capitec Bank Holdings Ltd.'s Gerrie Fourie said in an interview at the lender's headquarters in Stellenbosch. "I would get every single person to talk growth. The one thing I have learnt is that when people have a common objective, and everyone goes for it because it's clear, you achieve things."
While South Africa averted its second recession in as many years with an annualized second-quarter expansion of 3.1%, the underlying economy remains weak. Consumers have been battered by rising taxes, utility bills and a stubborn unemployment rate of 29%. Business confidence is being weighed down by political uncertainty and the lack of visible progress by Ramaphosa in tackling the increasing burden of struggling state-owned entities on the government's finances.
"That means all 28 ministers must give him a growth plan for how to grow South Africa," Fourie said, adding that faster growth will help broaden and expand the tax base, attracting investment.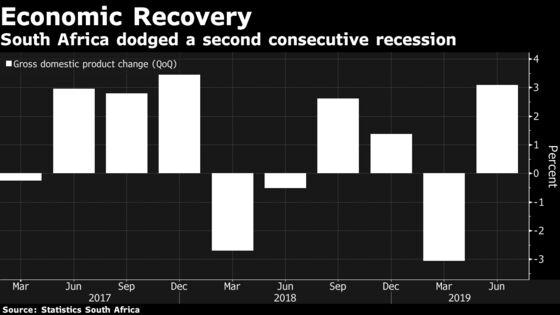 "We have two big problems in South Africa, the one is education and the other employment," the CEO said. "If you start growing you can sort out those problems."
While the government spends 6% of gross domestic product on education, as much as most developed nations, outcomes are among the lowest in international rankings. This is mainly because of poor subject knowledge among teachers, who are protected by powerful labor unions, the country's racially skewed past and language barriers, according to an International Monetary Fund working paper released in March.
Capitec, which started as an unsecured lender in 2001 and then expanded into a full-service offering, has been one of the country's fastest growing banks with a market-leading 11.4 million customers. The company, which releases first-half earnings by the end of this month, expanded by rolling out low-cost bank branches that don't hold cash, outperforming all other lenders in the six-member FTSE/JSE Africa Banks Index since its listing.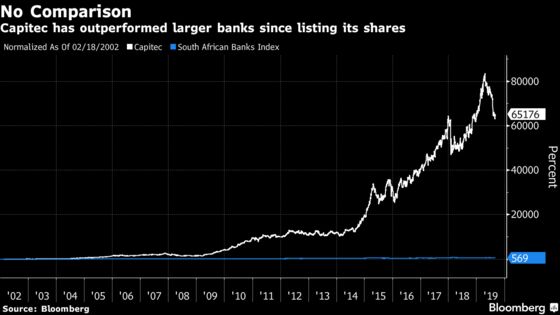 President Ramaphosa's administration could probably also be decisive with measures around state-owned power producer Eskom Holdings SOC Ltd., which is relying on government bailouts to keep its operations going and repaying debt equivalent to almost 7% of the nation's GDP.
"You need to be radical. It doesn't sound good but if you really look at what needs to be done you need to downscale middle and senior managers and get it lean and mean and focused," Fourie said. "Then you can turn it around."