Cape Town Advised to Clear Alien Trees to Boost Water Supply
(Bloomberg) -- Cape Town, the South African city that threatened to turn off the taps this year as it confronted a water crisis, should clear thirsty alien trees as a cheaper alternative to building desalination plants or wastewater recycling systems.
Removing non-indigenous trees from water catchment areas could add two months of water supply each year, according to research from the Nature Conservancy that the Arlington, Virginia-based organization published in Cape Town Friday. Building desalination plants and wastewater recycling systems would cost on average 10 times more than rooting out invasive pine, acacia and eucalyptus trees, according to the study.
Cape Town came within 90 days of shutting off supplies and forcing residents to queue for water during a record drought caused by years of below-average rainfall. While "Day Zero" was avoided, residents remain subject to severe restrictions that limit them to 70 liters (18.5 gallons) each a day.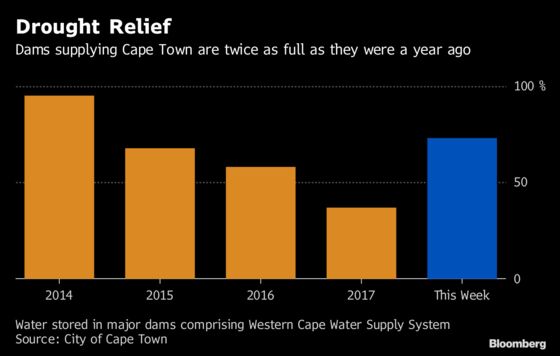 The U.S. organization's study found that 372 million rand ($26 million) could fund a 30-year program to clear invasive trees and prevent them from returning in seven catchment areas that provide 75 percent of Cape Town's water. In its first six years, the effort could yield an additional 56 billion liters, adding to the city's current annual supplies of 324 billion liters.
Dams supplying Cape Town were 72.9 percent full as of Thursday, according to figures posted on the city's website, about double the year-earlier level. They dwindled well below 30 percent before a recovery in rainfall during the May-August wet winter season swelled reservoirs.
More Key Points From the Nature Conservancy's announcement:
Companies, philanthropists and foundations have contributed almost 53 million rand to the Greater Cape Town Water Fund, launched Friday
Study was designed to identify the most cost-effective solution, attract others to join the Cape Town Water Fund, and add to money raised so far
Coca-Cola, PepsiCo, Caterpillar Foundation, and Levi Strauss & Co. are among corporate supporters of the fund
Work in first six years of program will create an estimated 350 jobs, mostly on teams to clear the invasive plants
The Nature Conservancy's research was conducted by Anchor Environmental Services and modeled various investments to increase water supplies to the city and its surroundings