Canadians Told to Avoid Traveling Abroad as Omicron Spreads
(Bloomberg) -- Justin Trudeau's government is asking Canadians to avoid non-essential trips to other countries over the next month as the spread of the omicron Covid-19 variant accelerates. 
"Our government is officially advising Canadians to avoid non-essential travel outside Canada," Health Minister Jean-Yves Duclos said during a news briefing. "To those who are planning to travel, I say very clearly: Now is not the time to travel."
The advisory will be in place for four weeks, meaning Canadian residents planning to celebrate Christmas outside the country may be forced to reconsider. The government is concerned that travelers could see their trips disrupted by new restrictions, illness, canceled flights or other factors, Duclos said.
"Once they have left Canada, there is very little we can do to help them," he said. "The situation abroad is already dire in many places, and it's going to get worse very quickly."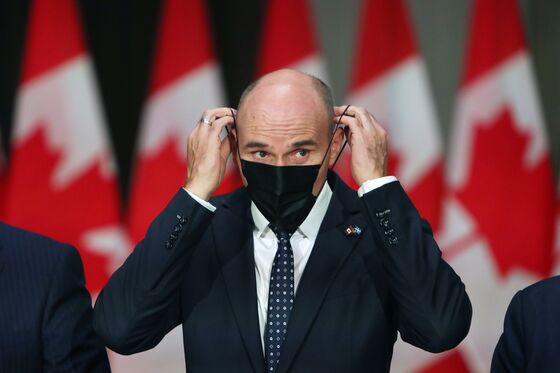 Canada recorded 4,336 new cases on Wednesday. The number of active cases has risen 48% since the end of November, to 99 per 100,000 people, according to government data.
Ontario Premier Doug Ford announced new measures on Wednesday aimed at slowing omicron's spread, which he said could be the dominant Covid-19 strain in the province by the end of the month.
Residents 18 and older will now be eligible for booster shots three months after their second dose instead of six, Ford's government said. Capacity limits of 50% will be introduced on sports and entertainment venues and meeting spaces that hold more than 1,000 people. Rapid tests will be available at pop-up sites.
The country's banks, including Bank of Nova Scotia and National Bank of Canada, have been pulling back on plans to return workers to their offices.
In Quebec, where high vaccination rates had until recently kept the situation under control, the number of new cases has been climbing, reaching 2,386 in the last 24 hours, with hospitalizations also on the rise. The province's government on Tuesday recommended employers revert to work-from-home practices and said free rapid tests will be distributed to the population of 8.5 million people.
Quebec Premier Francois Legault said he's not excluding more measures ahead of Christmas, La Presse reported Wednesday.