Canadian Oil Prices Weaken as Crude Tanks Fill on Refinery Work
(Bloomberg) -- Canadian crude prices fell Tuesday as storage tanks topped out amid refinery maintenance in the U.S. Midwest.
Heavy Western Canadian Select, an oil sands benchmark, fell to the biggest discount against West Texas Intermediate futures since Feb. 19, data compiled by Bloomberg show. Edmonton Mixed Sweet, a light grade, declined to the weakest level this year while synthetic crude, produced from oil sands bitumen in an upgrader, fell to the lowest in two weeks.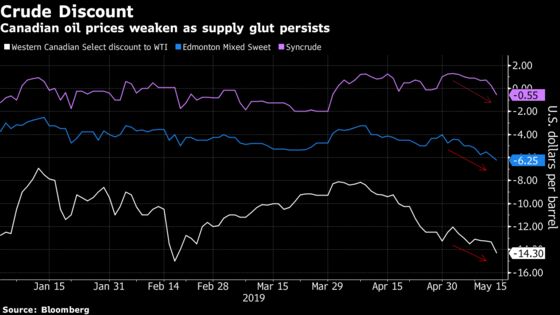 Prices have weakened as U.S. Midwest refineries, including Exxon Mobil Inc.'s Joliet refinery and BP Plc.'s BP Plc.'s Whiting refinery, were said to undergo maintenance in May. As of last month, Western Canada's oil inventories had already risen to a record even as crude-by-rail shipments rebounded from a February low, according to Genscape Inc.
Stockpiles are swelling despite production cuts mandated by the Alberta government starting in January. While the curtailments initially caused crude prices to surge, they've weakened since last month as the supply glut persists. As Canadian oil's discount widens, however, the lower prices could help drain bloated inventories by making crude-by-rail shipments to the U.S. more economic.
"This price move is more back to normalization than a big driver of weakness in the market," Mike Walls, Genscape analyst, said by phone. "We are back into rail economics and now we can clear barrels."