Canadian Inflation Accelerates, But Core Rate at 2% Target
(Bloomberg) -- Canadian inflation accelerated slightly in October on the back of higher costs for cars, but underlying price pressures remained around the central bank's target.
The consumer price index recorded a faster-than-expected annual pace of 2.4 percent during the month, up from 2.2 percent in September, Statistics Canada reported Friday from Ottawa. Core measures of inflation -- seen as a better gauge of pressures -- rose to an average of 2 percent in October from a downwardly revised 1.9 percent a month earlier.
The numbers are moderate enough to reassure policy makers the picture remains benign despite a spike in gasoline prices earlier this year. The 2 percent core rate is consistent with an economy at full capacity -- but not one that is overheating. This gives the Bank of Canada scope to proceed with caution on further interest-rate increases.
In its most recent forecasts in October, the Bank of Canada had estimated inflation would average 2.3 percent in the fourth quarter, down from 2.7 percent in the second quarter, and would return back to near the 2 percent target by 2019.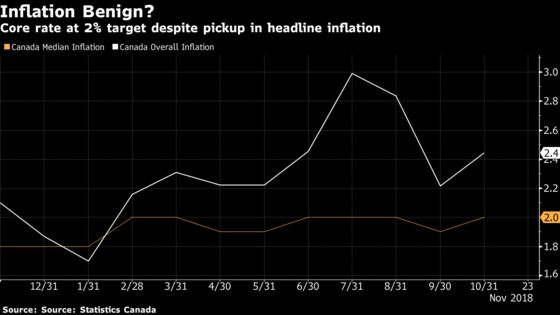 Inflation had reached 3 percent in July -- the highest in seven years -- on the back of higher gasoline prices, prompting some concern rates would need to rise more quickly. But throughout, the central bank stressed the increase was temporary.
The core rate has hovered around 2 percent all year.
While gasoline prices remain 12 percent above year-ago levels, they have now dropped in three consecutive months. They were down 3.2 percent in October.
The gain in prices last month was led by a 2.6 percent increase in cars, a 3.1 percent climb in telephone services and a 4.6 rise in air transportation.
Economists had expected annual inflation would remain unchanged at 2.2 percent in October.
Monthly inflation was up 0.3 percent in October, faster than the economist forecast of 0.1 percent
On a seasonally adjusted basis, inflation was also up 0.3 percent
Two of three measures of core inflation increased. The "common" rate was unchanged at 1.9 percent, the "median" increased to 2.0 percent from a downwardly revised 1.9 percent in September and the "trim" rate rose to 2.1 percent from a revised 2.0 percent
Inflation for services in October was 2.7 percent, up from 2.5 percent in September