Natural Gas Prices Plummet in Western Canada
(Bloomberg) -- Natural gas prices in Western Canada continued their freefall amid restrictions on the area's main pipeline network and as Enbridge Inc. targeted a mid-November restart for a ruptured pipe that cut off supplies to businesses, homes and oil refineries.
Gas at Alberta's pricing hub dropped to a five-month low on Friday, according to data compiled by Bloomberg. The Nova Gas Transmission Ltd. system currently isn't allowing interruptible service at its Upstream James River receipt area, or at its East Gate and West Gate delivery areas, according to a notice posted online. The network connects to the damaged Enbridge line through another system.
Enbridge said in an update that it expects the 36-inch (91-centimeter) pipeline that burst two weeks ago to be operating at 80 percent of its capacity when it returns to service next month. In the meantime, the company will continue pumping gas through a smaller line that's in the same right of way as the pipe that burst.
The outages are hitting one of the cheapest markets for natural gas in North America -- so cheap that sometimes the intraday fuel price falls below zero. Canadian gas has been pummeled by competition from U.S. shale supply and a dearth of pipelines and export terminals to carry the fuel to major markets.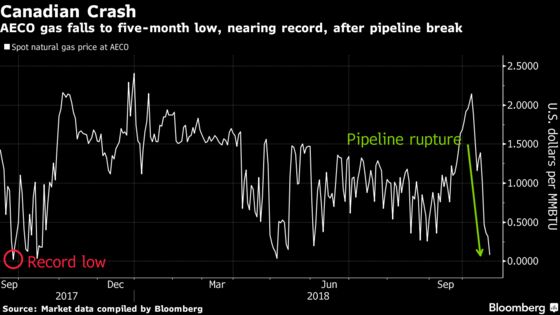 With less capacity to move Western Canadian gas out of Alberta, spot prices at the AECO hub in the province fell to 8 cents per million British thermal units on Friday, the lowest close since May 4. The record low in Bloomberg data stretching back to 1999 was 2.6 cents in September 2017.
Meanwhile, gas basis futures at Sumas -- located in Washington at the border with British Columbia, the province where the blast occurred -- rose 65 percent to $4.50 per million British thermal units on Friday.
For more on how the Enbridge rupture is affecting refiners, click here
Gas exports to the U.S. Northwest have risen after dropping to zero on Oct. 10 but remain near the lowest levels in at least four-and-a-half years. Once Enbridge restarts most of the line, the system is expected to move between 900 million and 1.3 billion cubic feet of gas a day through the rest of the winter.