Canadian Dollar Hits 4-Month High on Trade Deal to Replace Nafta
(Bloomberg) -- The Canadian dollar reached its strongest level in four months as the nation joined the U.S. and Mexico in a trade deal to replace the North American Free Trade Agreement.
The loonie appreciated about 0.8 percent and touched as strong as C$1.2787 against the greenback, while Mexico's peso rose for a fourth day. The new trade deal will be called the U.S.-Mexico-Canada Agreement, or USMCA, according to a joint statement from U.S. Trade Representative Robert Lighthizer and Canadian Foreign Affairs Minister Chrystia Freeland.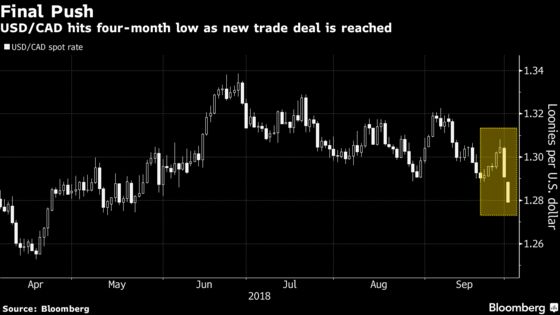 "The Canadian dollar is reacting favorably because the agreement was seen harder to reach,'' said Kengo Suzuki, chief foreign-exchange strategist at Mizuho Securities Co. in Tokyo. "The trade agreement will enable Canada to benefit from the buoyant growth in the U.S. economy. With this, a global trade war is scaling down to the bilateral trade conflict between the U.S. and China.''
The deal involves improved access to Canada's dairy market for U.S. farmers, stronger intellectual property provisions, and tighter rules of origin for car production, according to two senior Trump administration officials who spoke to reporters on a briefing call on condition of anonymity. U.S. President Donald Trump had threatened auto tariffs if a deal couldn't have been reached.
"I'm not entirely sure anyone was expecting a deal before this deadline, so it's not too surprising" to see the Canadian dollar rallying, said Viraj Patel, a currency analyst at ING Groep NV in London.
The Canadian dollar also got a boost from a report that Royal Dutch Shell and its four partners have agreed to invest in a multibillion-dollar liquefied natural gas project in western Canada. The deal would mark the nation's largest infrastructure project.
The loonie is now down about 1.8% this year versus the U.S. dollar
Fear of a trade war with the U.S. was seen as the strongest argument for Bank of Canada doves, so the probability of a rate hike at the October meeting moved from ~86% to ~94%
For similar reasons, the spread between U.S. and Canadian two year yields is tighter by 4bps at 56.5bps in favor of the U.S., the tightest level since August.
WTI crude oil is adding to Friday's advance, trading around $73.40
CAD 1-month implied volatility rises 0.23 vol points to trade back above 7%; with USD/CAD moving through its 200-DMA traders are looking for further volatility
Canada sees the Markit Manufacturing PMI at 9:30AM. The U.S. gets its ISM report at 10:00
USD/CAD Technicals

Resistance

1.2869, 200-DMA
1.2885, Sept. 20 low

Support

1.2743, May 22 low
1.2528, April 17 low