Canada Ups Ante With Central Bank Cash, Hints at Fiscal Move
(Bloomberg) -- Canadian policy makers are stepping up efforts to bolster confidence in the nation's economy, including the central bank sending cash into funding markets and suggestions from Justin Trudeau's government that fiscal stimulus could soon follow.
The Bank of Canada said Thursday after the closing bell that it plans to inject billions of dollars into markets to shore up stability, just eight days after it slashed interest rates by half a percentage point.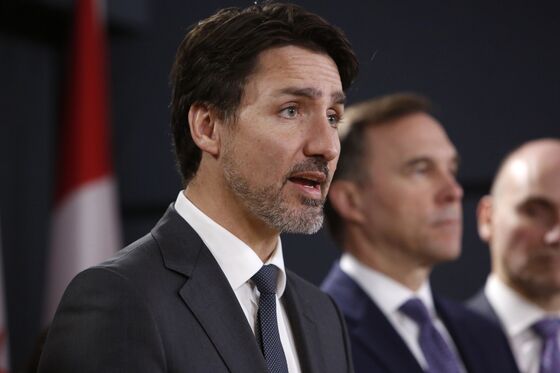 Two hours later, Finance Minister Bill Morneau held an impromptu news conference to underscore the government's urgency in dealing with the fallout from the coronavirus pandemic.
"What we're going to do is to use our fiscal strength to make sure our economy stays strong in the face of this uncertainty," Morneau said, without providing specifics.
The additional steps followed the biggest plunge in Canadian stocks prices in eight decades on Thursday as concern mounted that a global recession is at hand. Several of Canada's largest banks are predicting a technical recession this year as the country takes a double hit from falling oil prices and virus-related stoppages. In a report released Friday, Royal Bank of Canada predicted Canada will undergo a contraction in the second and third quarters of 2020, before rebounding in the fourth quarter.
While the prime minister himself is in isolation after his wife tested positive for Covid-19, Trudeau's government has so far taken a cautious approach. It has promised just C$1.1 billion ($790 million) in additional funding to respond to the virus, but it's hinting it may change tack.
On Thursday, Morneau confirmed the government has been forced to redo its revenue forecasts for the 2020 budget he plans to release on March 20. He also said he's speaking with global counterparts, including Treasury Secretary Steven Mnuchin, and the government was busy all day discussing its response to the deteriorating conditions.
"The prime minister today spent significant time with myself and with the broader team to think about how we make sure to get the economic decisions right," Morneau said. Trudeau spoke with U.S. President Donald Trump and U.K. Prime Minister Boris Johnson, according to the prime minister's office.
Also Thursday, the U.S. Federal Reserve took aggressive steps to ease what it called "temporary disruptions," promising a cumulative $5 trillion in liquidity and widening its purchases of U.S. government bonds.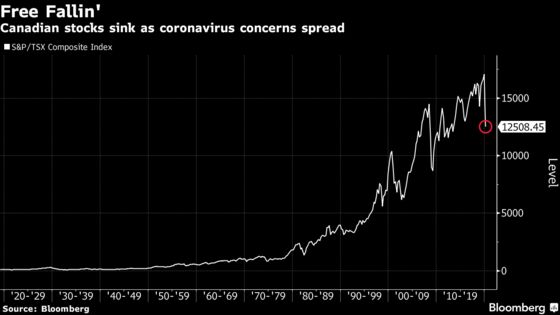 The Bank of Canada cut its benchmark interest rate to 1.25% on March 4. Since then, oil prices have plunged, adding another shock to an already faltering economy and raising the likelihood of more rate cuts. Swaps trading suggests investors are expecting another 75 basis points in cuts by mid April.
On Thursday, the bank said it will "proactively" support interbank funding by increasing the frequency with which it purchases Canadian government bonds to weekly, from every two weeks, and widening the terms to include six-month and 12-month operations. It will also expand the scope of a bond buyback program.