Canada Overcomes Trump's Metal Tariffs With Record Exports
(Bloomberg) -- Canada's merchandise trade deficit narrowed more than forecast as oil producers and aircraft makers led exports to a record high.
Even after the U.S. imposed tariffs on steel and aluminum, Canada's trade gap narrowed to C$626 million ($481 million) in June, down from C$2.7 billion a month earlier, Statistics Canada said Friday in Ottawa. Economists surveyed by Bloomberg predicted a deficit of C$2.3 billion.
Exports rose 4.1 percent to C$50.7 billion, with energy shipments up 7.1 percent to the highest since 2014 and aircraft sales jumping by almost 45 percent. The return of several Canadian refineries to production after shutdowns also played a role in the 0.2 percent decline in imports as demand for foreign gasoline tumbled.
"Canadian trade was a large and pleasant surprise in June, and a surge in exports for the month capped a solid quarter," Canadian Imperial Bank of Commerce chief economist Avery Shenfeld wrote in a research note. Economic growth is on track for a 3 percent annualized pace in the second quarter, and the trade data bolsters the case for another central bank rate increase by October, he said.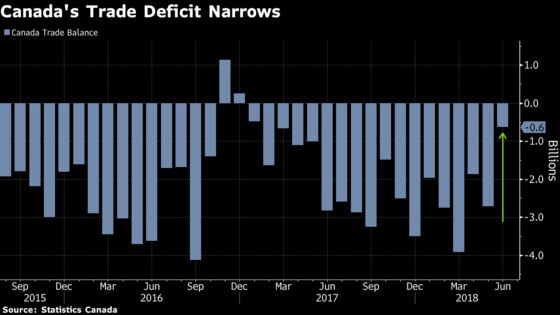 Canada's dollar strengthened 0.3 percent to C$1.2987 per U.S. dollar at 8:52 a.m. Toronto time. Yields on 2-year government bonds rose to 2.1 percent, touching the highest in almost a decade. The report raised expectations for a Bank of Canada rate increase in September to 39 percent, from 32 percent yesterday and 12 percent a fortnight ago.
The improving trade balance more than offset declines in exports to the U.S. of steel and aluminum, which fell 37 percent and 7 percent after President Donald Trump's tariffs took effect. Prime Minister Justin Trudeau's government retaliated dollar-for-dollar the following month.
Canada's exports are on pace to outpace imports over the next year according to Bloomberg forecasts, reflecting higher crude oil prices and demand for building materials in a growing global economy. The Bank of Canada is counting on trade and investment to contribute more to an economic expansion as it raises interest rates, while saying protectionism remains the biggest risk.