Inflation Stays Near Zero in Canada, Keeping Pressure Off Rates
(Bloomberg) -- Inflation remained subdued in Canada as the nation's economy emerges from the aftermath of the pandemic.
The consumer price index rose 0.1% in August from the same month a year earlier, Statistics Canada reported Wednesday from Ottawa. That's unchanged from July, but missed the median economist forecast for a 0.4% annual gain. Excluding gasoline, inflation was just 0.6%.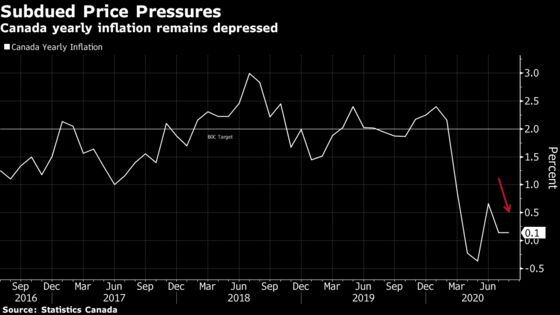 The sharp slowdown in inflation -- which had been running just above 2% before the pandemic hit -- mostly reflects weaker gasoline prices but also a reluctance by companies to raise prices. A lack of pressure on prices is giving the Bank of Canada license to keep interest rates at historic low levels in order to stoke growth.
"With little in the way of inflation, the Bank of Canada has no reason to change its communication that interest rates will remain low for an extended period," James Marple, a senior economist at Toronto-Dominion Bank, said in a report.
Policy makers have cautioned a full economic recovery is a long way off and that inflation is likely to remain below the central banks 2% target over the next two years.
Core inflation readings -- often seen as a better measure of underlying price pressure -- have been running hotter than the headline measure, with the average of the three measures at 1.7% in August. But few economists see any threat of that moving higher.
The core rate "is still far enough from the central bank's target to keep policy makers more concerned about disinflationary pressures, particularly with the unemployment rate still historically high," CIBC economist Royce Mendes said in a report to investors.
Not all sectors are showing anemic price growth. Costs for personal care services rose 7.2% in August from a year earlier. The statistics agency cited higher prices for haircuts as salons passed on the cost of Covid-19 safety measures. Jewelry costs also saw strong gains due to the record-high prices for gold.
On the down side, the collapse in demand for travel and recreation has led to a drop in prices in these categories. Airlines continued to offer discounts to encourage travel, prompting a 16% drop in ticket prices from a year ago.