Canadian Inflation Falls to 15 Month Low on Cheaper Gas Prices
(Bloomberg) -- Canada's annual inflation fell in January to its lowest rate in 15 months as gasoline prices declined, giving the Bank of Canada plenty of breathing room on interest rates.
The consumer price index was up 1.4 percent from a year earlier, down from a 2 percent pace in December, Statistics Canada reported Friday from Ottawa. That's the slowest since October 2017. Core measures -- seen as a better gauge of price pressures -- remained at about 1.9 percent.
The numbers are consistent with a relatively benign inflation outlook for Canada, at a time when the economy is in the middle of a temporary slowdown. The softness gives policy makers little reason to worry that things are overheating. On Friday, Statistics Canada will release GDP data for the final three months of 2018, a report that's expected to show growth halving to an annualized pace of just 1 percent.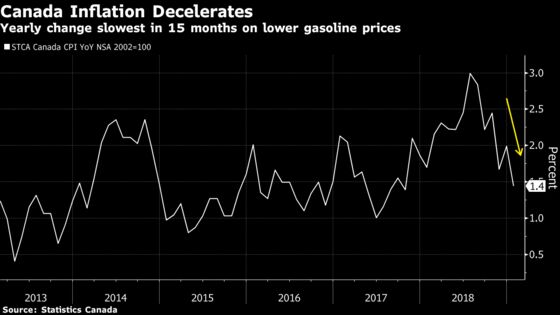 Most economists expect the central bank, after lifting borrowing costs five times since mid-2017, will stay on hold for the next few months before resuming hikes later this year, as inflation and growth pick up. The Bank of Canada projects inflation will return to near its 2 percent inflation target by the end of this year.
"With underlying inflation so stable and economic growth simmering down -- Friday's Q4 GDP report will do well to top 1% -- the Bank of Canada's stay on the sidelines looks to be a long one," Doug Porter, chief economist at Bank of Montreal, said in a note to investors.
Canada's dollar remained higher after the report, trading up 0.3 percent to C$1.313 against the U.S. currency at 9:14 a.m. Toronto time. Two-year government bonds yielded 1.77 percent, up from 1.76 percent Tuesday.
The inflation slowdown to 1.4 percent in January was in line with economist expectations.
Gasoline prices, which were responsible for a brief spike in inflation last year, are now acting as a major drag. Gas prices fell for a sixth straight month, and were down 14 percent from a year ago.
There were few signs of any inflation pressure in the report. Inflation in the services sector, which hit 3.5 percent in December, was down to 2.7 percent in January. Excluding gasoline, consumer price inflation was 2.1 percent in January, down from a pace of 2.5 percent in December.
Prices of goods were actually down from what they were a year ago.
Monthly inflation was up 0.1 percent in January, in line with economist forecasts
Seasonally adjusted, prices were down 0.1 percent
All three measures of core inflation were unchanged: the 'common' rate at 1.9 percent, the median rate to 1.8 percent and the trim rate at 1.9 percent
A reversal of a December spike in air transportation prices led declines in January. Car prices were the main driver of price gains last month