Canada Goose Is a 'Rocket Ship' of Hard-to-Predict Growth, CEO Says
(Bloomberg) -- Canada Goose Holdings Inc.'s earnings have topped analysts' estimates for seven straight quarters and its guidance is often described as conservative. But don't tell Chief Executive Officer Dani Reiss he's too cautious.
"We're responsible," Reiss said in a phone interview Wednesday after the company increased its revenue and earnings guidance for the year. "We're a fast-growth company and it's exciting to be a fast-growth company. Predicting the speed of a rocket ship is a little hard to do."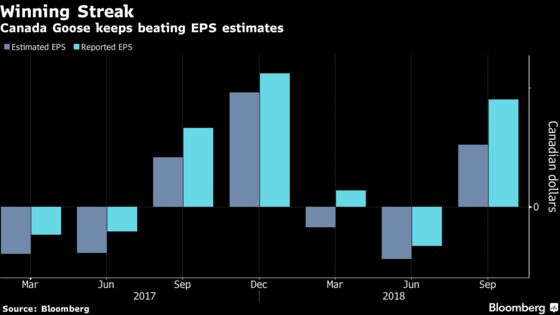 New revenue growth estimates from the Toronto-based company are more "realistic" but still conservative after direct sales to consumers at stores and online jumped 150 percent during the second quarter, according to Bloomberg Intelligence analyst Maxime Boucher. Royal Bank of Canada analyst Brian Tunick also said the guidance "again could prove conservative."
The earnings beat sent the shares soaring as much as 23 percent to C$95.62 in Toronto to the highest since the company went public last year. Canada Goose is the best performing stock on Canada's main equity gauge this year.