Biden's Power Limited on Masks; Citi Shot Mandate: Virus Update
(Bloomberg) -- U.S. President Joe Biden said he doesn't think he can overrule governors on masks. Hospitals across the country are parceling out beds for Covid patients, hunting for doctors and nurses as the delta variant sweeps from coast to coast. 
Anthony Fauci, the top U.S. infectious disease expert, said state and local governments should require teachers to get vaccinated, highlighting a "critical situation." Citigroup Inc. told employees returning to offices in the New York area and other big U.S. cities that they'll need to be vaccinated.
The European Union decided not to reinstate restrictions on travel from the U.S. despite new cases there exceeding the bloc's threshold. The U.K. said more than 75% of adults are vaccinated.
The outbreak is also growing in China, with more than 100 symptomatic cases reported on Tuesday as the nation's Covid-zero strategy risks leaving it isolated for years.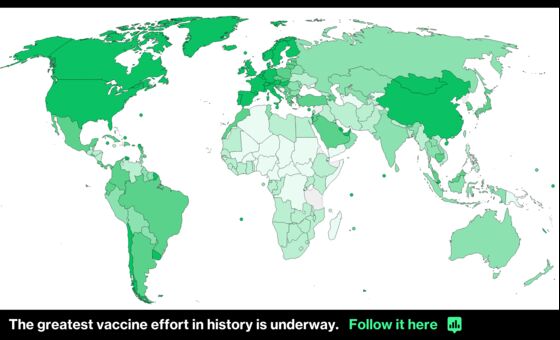 Biden Can't Overrule Governors on Masks (4:50 p.m. NY)
President Joe Biden said he doesn't think he has the power to overrule governors who nullify requirements imposed by school systems calling on kids and staff to wear masks to protect against Covid-19.
"I don't believe that I do thus far. We're checking that," Biden told reporters Tuesday in response to a question at the White House. "On federal workforce, I can."
Biden's comments came as school leaders across the country face a dilemma as millions of students prepare to return in person to classes as the delta variant of Covid-19 spreads rapidly.
A group of parents in Florida have gone to court to block an executive order by Governor Ron DeSantis that bans school districts from imposing mask requirements when classes resume this fall. At least six other states, including Arizona, Texas and Arkansas, have banned local school districts from requiring students to wear masks.
DeSantis Sees Easing in Jacksonville Area (2:20 p.m. NY)
Florida Governor Ron DeSantis predicted that the Covid-19 wave may begin easing in northeast Florida, one of the hardest-hit parts of the U.S.
In Duval County, home to Jacksonville, DeSantis noted that the seven-day average of new cases has begun to drop. He also said that emergency-room visits with Covid-like illness were down in the past week, and that the effective reproductive number was below 1, which theoretically signals declining infections ahead.
"If those trends are durable, you will absolutely see the hospital census reflect that for sure," DeSantis said. "And I think we're seeing in other parts of the state as well a flattening."
Kenya Takes Hard Line on Vaccines for Workers (2 p.m. NY)
Kenya will require all government workers to receive at least one dose of Covid-19 vaccine before Aug. 23 or face disciplinary action, according to Joseph Kinyua, the head of the nation's public service.
Some staff members have opted not to get inoculated so they can continue working from home, which is hurting service delivery, according to a letter sent by Kinyua to senior state officials and verified by Bloomberg News. There has been low uptake by security officers and teachers in particular, he said.
Crete Outbreak Fuels Greek Surge (12:40 p.m. NY)
Greece recorded 4,181 new coronavirus cases Tuesday, the highest daily increase in just over four months. The Heraklion area of the island of Crete saw the largest rise in new cases over the past 24 hours after central Athens. Greek authorities announced a nighttime curfew for the area from 1 a.m. to 6 a.m. starting Aug. 11 until Aug. 17 as well as a ban on music at entertainment venues.
Citigroup Requires Vaccines for Office Workers (11:10 a.m. NY)
Citigroup Inc. told employees returning to offices in the New York area and other big U.S. cities that they'll need to be vaccinated against Covid-19, among the more restrictive moves by a U.S. financial firm as companies contend with the deadly virus and its highly contagious delta variant.
The decision also affects workers in Chicago, Philadelphia, Boston and Washington, D.C., the bank told employees in a memo Tuesday. Citigroup expects employees to return to offices starting Sept. 13.
Staffers at the company's bank branches are encouraged but not required to get Covid-19 vaccines. Mask-wearing is required for all office and branch workers regardless of whether they've gotten shots, Citigroup said.
Moderna Plans Factory in Canada (10:25 a.m. NY)
Moderna Inc. reached a tentative agreement with Canada's government to build a messenger RNA vaccine factory in the country, a move that could boost domestic supplies of shots for Covid and other viruses while expanding the shot maker's footprint.
U.K. Fully Vaccinates 75% of Adults (10:05 a.m. NY)
More than three out of every four U.K. adults has now had two doses of coronavirus vaccine, the country's Department for Health and Social Care said on Tuesday. Some 47,091,889 people have received at least once dose, while 39,688,566 have received two, it said.
Hong Kong Extends Pandemic Regulations (9 a.m. NY)
Hong Kong extended regulations allowing it to implement measures to contain the pandemic, including rules on group gatherings, compulsory quarantine of visitors, compulsory testing and mask-wearing.
The legislation extended until March 31, 2022 is meant to maintain the legal framework needed to enact curbs, the government said.
U.S. Hospitals Down to Their Last ICU Beds (8:26 a.m. NY)
Hospitals across the U.S. are parceling out beds for Covid patients, hunting for doctors and nurses as the disease outstrips any mitigation measures.
In a few states, the unvaccinated are entering intensive care units at rates matching the winter wave. The vaccinated are coming to realize that a sweet summer of release may have been a fantasy, as they again calculate the risks of working, seeing relatives and circulating in society.
Portugal to Vaccinate Teenagers (7:28 a.m. NY)
Portugal began recommending the use of vaccines for 12- to 15-year olds on Tuesday as the southern European country accelerates its vaccination program.
Vaccines for teens will become available around the time the school year begins in September. The government began easing restrictions last month as the latest surge shows signs of slowing. Portugal's government expects 70% of the population to be fully vaccinated by early September.
Fauci Says Teachers Need Vaccine (7:22 a.m. NY)
Teachers should get vaccinated as the epidemic shows a "major surge," White House Chief Medical Advisor Anthony Fauci said on MSNBC.
While state governors could "absolutely" mandate vaccines for teachers, "you're not going to get mandates centrally from the federal government," Fauci, director of the National Institute of Allergy and Infectious Diseases, said on MSNBC's Morning Joe. Once the current shots receive full Food and Drug Administration approval, more local institutions will probably institute vaccine mandates, he said.
U.K.'s Coronavirus Deaths Climb (6:38 a.m. NY)
The U.K. said Covid accounted for 4% of all deaths in the last week of July, the highest weekly share of all deaths in three months.
These figures reflect a progressive loosening of lockdown rules starting in April that resulted in most restrictions being scrapped on July 19. Infections have been rising steadily since, but serious sickness and hospitalizations remain below peak levels last year because of a rapid takeup of vaccines.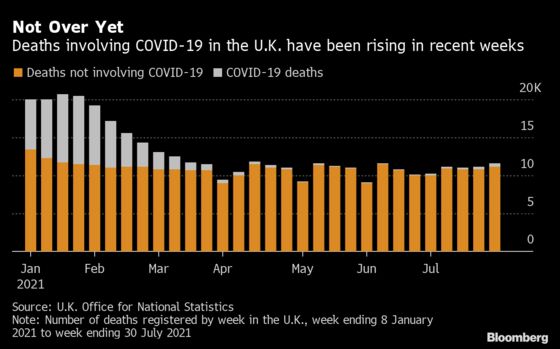 EU Won't Impose Travel Curbs on U.S. (5:35 a.m. NY)
The European Union decided not to reinstate restrictions on non-essential travel from the U.S. despite new cases there exceeding the bloc's threshold.
The guidance from the bloc is a recommendation and any decision on who to let in, and what restrictions to impose, ultimately rests with the government of each member state.
The Biden administration has kept foreign travel restrictions in place despite pressure to allow visitors from places like the EU. U.S. officials have cited rising delta variant cases as one reason for that decision.
German Investor Confidence Plunges (5:07 a.m. NY)
Investor confidence in Germany's recovery dropped to the lowest level since late last year after a rise in infection rates stoked concerns over a possible tightening of pandemic curbs.
ZEW's gauge of expectations declined to 40.4 in August from 63.3 the previous month. Although more than half of Germany's population is fully vaccinated, coronavirus infections in Europe's largest economy are on the rise. The government has already tightened some travel rules and is set to discuss additional steps during a summit on Tuesday.