Canada's Economy Shrank Almost 12% in Historic April Contraction
(Bloomberg) -- Canada's economy collapsed in April as the country recorded its biggest output drop on record in the first full month of lockdowns to curb the Covid-19 pandemic.
Gross domestic product shrank by 11.6%, extending the 7.5% decline in March, Statistics Canada said Tuesday in Ottawa. Before the crisis, the economy had never contracted more than 1.5% in any one month over the past sixty years.
Focus now shifts to how quickly and to what extent the economy will recover. The statistics agency also released a flash estimate on Tuesday that showed growth of 3% in May, which, though small relative to the scale of April's decline, would be a record increase.
"April was a 'mense horribilis' for the Canadian economy, and the only thing good about it was that in all likelihood it marked the bottom of this short but extremely deep recession," Avery Shenfeld, chief economist at Canadian Imperial Bank of Commerce, said in a report to investors, adding the rebound last month was less than expected.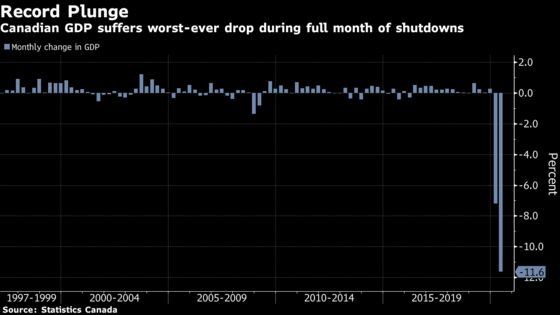 Even factoring in the May gain, output was down 16% from February levels, and policy makers have been warning that a full recovery remains a long way off.
The International Monetary Fund expects the sharp drop in output in March and April will generate an overall 6.2% contraction for all of 2020, followed by 4.2% in 2021. That would be in the middle of the pack of advanced economies.
The Canadian dollar was little changed after the report, trading at C$1.3679 per U.S. dollar at 9:35 a.m. Toronto time.
Tuesday's report showed the downturn in April was broad-based, with all 20 industrial sectors shrinking. Services-producing sectors recorded a 9.7% decline, with significant decreases in retail trade, transportation, restaurants and accommodation. Goods-producing industries saw a 17% drop in output, driven by a plunge in construction and manufacturing.
The median forecast in a Bloomberg survey was for a 12.2% contraction in April.