Can an 'Under the Radar' Drugmaker Shake Off Bears With New Data?
(Bloomberg) -- Galmed Pharmaceuticals Ltd. has never closed above $350 million in market value, while peers developing similar therapies for liver disease and trailing behind the company in their development timelines have reached into the billions of dollars.
"Our job is to develop a drug, not manage share price," Chief Executive Officer Allen Baharaff said on the sidelines of the American Association for the Study of Liver Diseases' annual meeting in San Francisco. Tel Aviv-based Galmed is fully financed to handle a pivotal study in the increasingly heated area known as NASH, and investors in the company's recent secondary offering are supportive, he said.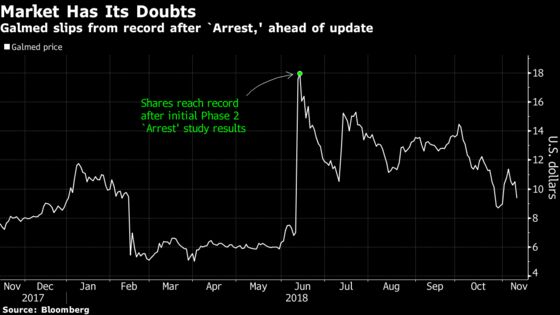 All seven analysts tracked by Bloomberg rate the stock the equivalent of a buy. The average price target is about $34, implying shares could more than triple over the next 12 months from their current $9. By comparison, the mean return potential among companies in the Nasdaq Biotechnology Index was hovering around 70% on Monday.
Of those companies targeting nonalcoholic steatohepatitis or NASH, Galmed is "under the radar, and that is a mistake," Raymond James analyst Steven Seedhouse wrote in a note to clients on Oct. 18. Investors have a "free call option" for now, he said. That could change on Tuesday when doctors and the investment community see the complete results from Galmed's mid-stage study of Aramchol. Cantor Fitzgerald's Elemer Piros told clients in a note earlier this month that Galmed shares may show "significant strength" after Tuesday's presentation.
Galmed's CEO blames the low share price on investors being confused by too much information and unaware of the difference between an effect on liver fat by itself, which is not a regulatory approvable endpoint, and an effect on NASH resolution.
Bears have been focusing on Aramchol's failure to show a statistically significant reduction in liver fat at the highest dose of 600 milligrams, the main goal of its mid-stage study. A 400 milligram dose of the drug was able to narrowly show an effect. Galmed will likely bring forward the higher dose into the final stages of testing. The magnetic resonance spectroscopy, or MRS, used was probably not sensitive enough, Baharaff said. Many studies now use magnetic resonance imaging for estimating hepatic proton density fat fraction. He also says that analysis of MRS responders, or those with a five percent or greater change from baseline, did show a response.
"The purpose of a Phase 2b is to demonstrate the effect so we can correctly power the Phase 3 study," he said. Galmed plans to enroll about 1,000 patients in its late-stage study.
"All companies that you have seen so far have reached NASH resolution of roughly 20 percent. It's not like we have any drug that has shown 40-, 50- or 60 percent NASH resolution effect at one year," Baharaff said. He also points to Aramchol's effect on fibrosis as not being too far off from Intercept Pharmaceuticals Inc.'s Ocaliva. Aramchol cut fibrosis by about 12 percent after adjusting for placebo effect, compared to 16 percent with Ocaliva.
Aramchol at the highest dose has also shown a clear difference, preventing more patients than those getting placebo from progressing to cirrhosis.
Baharaff also answered concerns about finding study patients at a time when there are so many competing drug candidates in clinical trials. With Intercept almost done recruiting 2,300 patients for its study and Cymabay Therapeutics Inc.'s NASH study enrolling ahead of schedule, the Galmed CEO said, "I don't think there is an issue." Pivotal studies are recruiting more advanced fibrosis patients, who may be more willing to participate.