Can Macquarie's New CEO Keep Its Run of Record Profits Intact?
(Bloomberg) -- When Shemara Wikramanayake takes the helm of Macquarie Group Ltd. on Friday, she inherits a company that's riding high. The Australian investment bank has more than tripled profits in six years, consistently beaten market expectations and seen its shares surge about 100 percent under predecessor Nicholas Moore.
Yet the 56-year-old becomes chief executive officer in a shifting world. The era of ultra cheap money is ending, the U.S. trade war with China is escalating and the asset management unit that she turned into a growth engine for Macquarie faces increased competition.
Here are the key opportunities and threats facing the bank's first female CEO as she tries to keep Macquarie's record run intact.
Wikramanayake herself is a three-decade company veteran and has no shortage of experienced executives to whom she can delegate. Tim Bishop, the head of Macquarie Capital, has been with the company since 1999, while Andrew Downe, who runs commodities and global markets, joined in 1985. "My top priority is to ensure we have a smooth transition when Nicholas goes and I step into that role; that nobody really skips a beat or notices the difference," she told Bloomberg News earlier this month. After two profit forecast upgrades in less than a month, equity analysts remain confident.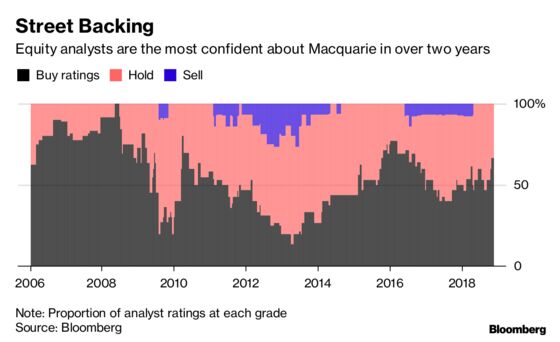 As the world's biggest manager of infrastructure assets, from Australian agriculture to Mexican roads and cell towers, Macquarie is well placed to benefit from the continued flood of money from institutional investors and pension funds increasing their allocations to such assets.
Macquarie has significant businesses ranging from asset management to commodities and from equities to corporate finance. Such diversification gives it buffers against under-performance in any single area.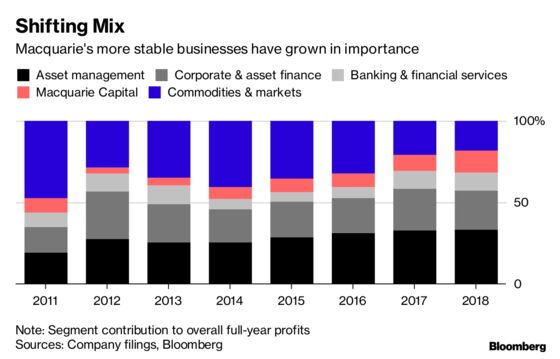 The flipside of Macquarie's diversification is a complexity that demands considerable management oversight. Shocks can come from left-field in a sprawling empire that employs 14,000 staff across 25 countries and includes everything from water treatment plants in China to gas trading desks in Houston.
Macquarie's success is closely linked to the health of global markets, which are starting to flash warning signs. A downturn would impact a large swath of its businesses, whether that's direct market-facing operations such as equities trading or connected operations like M&A advisory. With only a small retail base, the bank also relies on global markets for funding. "Macquarie's share price assumes that continued global financial prosperity and stability
lie in wait," Shaw and Partners analyst Brett Le Mesurier said. "The fear is that this won't occur."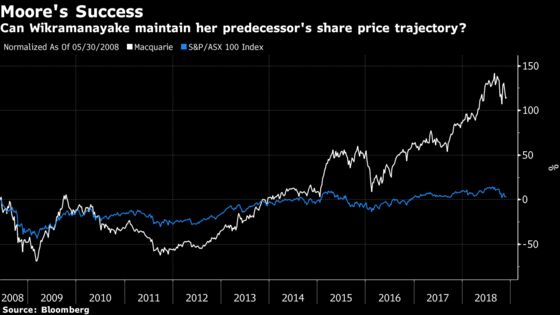 Having cancelled plans for a share-buyback, Macquarie has an increasing amount of cash on hand for acquisitions. The challenge will be how to best deploy this money in an environment where valuations are already stretched.
From buying the U.K.-based Green Investment Bank, to offering environmentally-friendly loans and hiring from the likes of Tesla Inc., Macquarie has made a big bet that the future is green. If that proves right, the bank is in a pole position.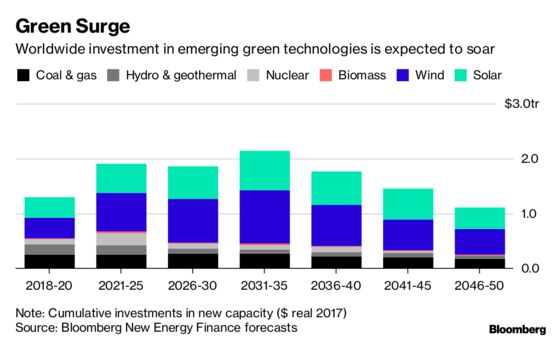 Despite being headquartered on Asia's doorstep, only about 11 percent of Macquarie's income comes from the region, the same proportion as six years ago. With increased demand for Asian infrastructure, there are huge opportunities for growth.
While Macquarie has emerged largely unscathed from Australia's inquiry into financial system misconduct, it's one of several banks under investigation in Germany where authorities are probing a tax-dodging scheme that cost the state treasury billions of euros. Macquarie says it is co-operating fully with the German authorities and "believed that it was acting lawfully."
Macquarie bought a large number of assets during the global financial crisis that have since soared in value. The gradual offload of these into a hungry market flush with cash has boosted revenues. While there is still some way to run, "the current market conditions that have enabled Macquarie to rapidly recycle assets are not going to continue forever," Citigroup Inc. analyst Brendan Sproules said in a note to clients.
Whether it's other asset managers, private equity or pension funds, there's an abundance of money hunting infrastructure investment around the globe. Such competition raises prices and has caused analysts to question whether the fees Macquarie currently charges for the management of its specialist funds are sustainable.