Cameroon Polls Close With Fear Stalking Anglophone Regions
(Bloomberg) -- Election officials in Cameroon started counting ballot papers after Sunday's poll that was marred by sporadic violence in the central African nation's two English-speaking regions, limiting turnout in a vote widely expected to extend President Paul Biya's 36-year rule.
Some polling stations in the Northwest Region and Southwest Region weren't able to open for the vote in which Biya, 85, faced seven candidates. At least 400 civilians have died in the past year in a clampdown by the security forces against separatists, according to the Brussels-based International Crisis Group. Insurgents have posted videos of torture and beheadings of military and police officers on social media.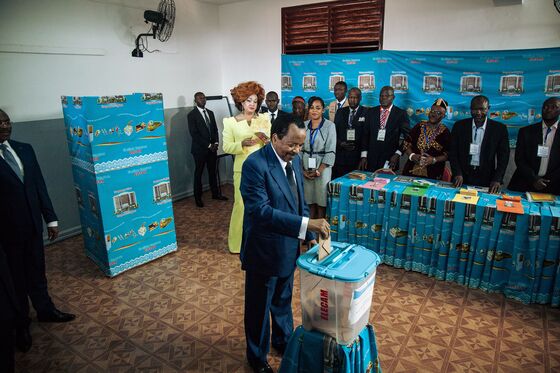 Oil-dependent Cameroon is increasingly a key regional and agricultural hub, with roads and ports vital for landlocked neighbors including Chad and the Central African Republic. It's also a major cocoa and palm-oil producer.
A curfew, imposed by the separatists, and security concerns kept voters from polling stations in the Anglophone regions, Tanda Theophilus, an ICG researcher, said by phone from Yaounde, the country's capital.
Nicolas Ngwa, a 35-year-old teacher who voted at the Government High School in the city of Bamenda in the Northwest, said many people stayed home for fear of being lynched by separatists or hit by stray bullets. "We expect the next president to organize a dialogue and stop this unnecessary war," he said.
An army spokesman said three assailants were killed in Bamenda. "They were separatists trying to disrupt the vote," Colonel Didier Badjeck, an army spokesman, said by phone from Yaounde.
A local government official's convoy was attacked in Buea in the Southwest Region, and men on motorbikes fired on soldiers posted near a polling station. Eye-witnesses in Bamenda and Buea said gunfire could be heard throughout the day.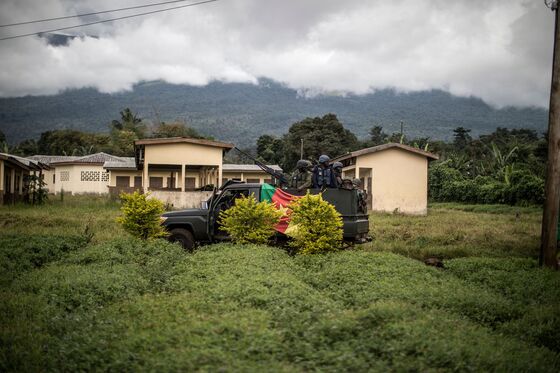 "This is normal as we try to avert attacks by the separatists trying to scare people from voting," Badjeck said.
Security forces are fighting a Boko Haram insurgency in the far north of Cameroon. About a million voters, out of some 6 million people eligible to cast ballots, are in the troubled Anglophone regions. 
The violence follows unrest that began in late 2016 with peaceful protests by teachers and lawyers against the dominance of the French language in the English-speaking regions. It's since spread to the center of the country and cities like Douala and Yaounde.
Cameroon's opposition has never been able to effectively unite and unseat Biya, Africa's second-longest serving head of state after Teodoro Obiang Nguema in neighboring Equatorial Guinea.
Akere Muna, whose late father Solomon was Cameroon's first Anglophone prime minister, withdrew from the race on Friday and pledged his support to Maurice Kamto of the Cameroon Renaissance Movement.
Results are excepted within two weeks. The candidate who receives the most votes wins.