Calypso Buyout Loan Is Latest Giant Deal in Private Debt Market
(Bloomberg) -- Owl Rock Capital Partners is leading a $2.3 billion loan to help fund the buyout of Calypso Technologies Inc. by Thoma Bravo, one of the biggest deals ever seen in the private debt market.
The loan arranged by the New York-based asset manager is a unitranche transaction, which blends first-priority and subordinated debt into a single facility. Thoma Bravo last month agreed to buy cloud-based software company Calypso from Bridgepoint and Summit Partners.
The transaction is the latest in a slew of jumbo deals in the nearly $1 trillion private credit market, which has swelled in the last decade as banks have stepped back from lending to mid-sized firms.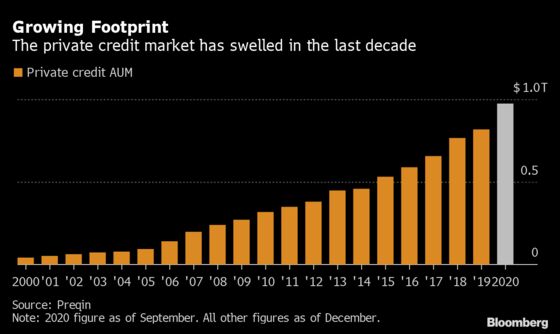 In recent weeks, middle-market lender Golub Capital upsized an existing unitranche loan to Saas solutions provider Diligent by $800 million to $2.1 billion, and increased an existing facility to MRI Software by $200 million to $2.2 billion.
That comes after Blackstone Group Inc.'s credit unit and Starwood Capital Group LLC agreed to provide 1.8 billion pounds ($2.5 billion) in debt financing earlier this year for the investment firm's acquisition of a British holiday company. And last year, European insurance brokerage The Ardonagh Group was able to negotiate a 1.875 billion-pound ($2.4 billion) debt package from a small group of private lenders -- touted as the largest unitranche ever at the time.
Loans in the alternative lending space, which is increasingly catering to larger borrowers, are getting bigger. In a recent analysis of some $60 billion in 2020 private credit deals, law firm Proskauer found that 54% were greater than or equal to $200 million.
Multi-billion deals are usually financed in the broadly-syndicated loan or high-yield bond market, where groups of banks arrange deals and then divvy them up among institutional investors. But in the wake of the 2008 financial crisis, direct lenders have snapped up market share -- especially in times of volatility when borrowers and sponsors want the certainty of financing, even at a higher interest rate.