California Utilities Face an Expensive, Wildfire-Filled Future
(Bloomberg Opinion) -- If headlines along the lines of "PG&E plunges ..." provoke a sense of deja vu, then it might be a good idea to embrace the feeling. Because the financial markets have.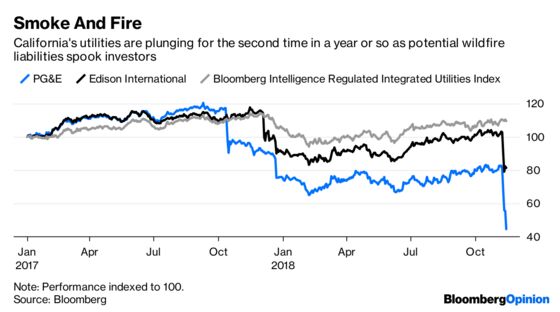 This year's plunge is worse because fears of potential bankruptcy have become acute for PG&E. The company's abrupt drawdown of its entire revolving credit facility is the latest red flag, and the yield on the company's 30-year bonds has spiked by almost 2 percentage points in the space of one week (having begun the year at 3.85 percent, it's now 7.24 percent).
Beyond the immediate crisis, what we are looking at here is a potentially chronic problem and a tangible cost of climate change.
The quick succession of wildfires has made PG&E and Edison, especially the former, among the most volatile large utility stocks around. Utilities are generally less volatile than the S&P 500, as you would expect, with a beta of less than 1.0 (beta is a measure of volatility relative to the market, with higher scores indicating higher risk). Looking at the past 18 months, though, the Californians are notably at the higher end of the scale: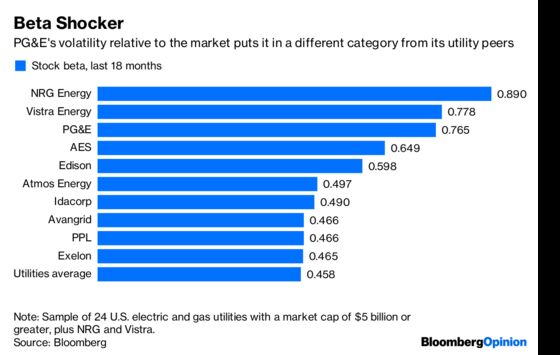 I threw in NRG Energy Inc. and Vistra Energy Corp. even though they aren't utilities but riskier merchant power generators. Strikingly, PG&E now sits closer to them than the true utilities in that chart. If you looked at betas just for this year to date, PG&E's is now actually higher than Vistra's.
This isn't how the relatively boring business of maintaining the electrical grid is supposed to work for investors, of course. But the rising temperatures and drier conditions associated with climate change (as detailed in the California state government's latest summary report) — along with the understandable if not always advisable desire to live near those wonderful forests — mean these events, tragic as they are, will become less extraordinary. Five of California's largest wildfires on record have occurred in this decade, according to the California Department of Forestry and Fire Protection. Three have happened in just the past year.
In response, California passed new legislation earlier this year to provide the state's utilities with more scope for recovering the costs associated with wildfires and regulators more leeway in allocating those costs. However, there is some concern the new law doesn't cover this year's fire season.
Moreover, it doesn't remove the principle of "inverse condemnation" — an unusual feature of Californian law allowing property owners to demand compensation for damages linked to a public utility's equipment, regardless of whether negligence is proved. This creates enormous uncertainty around the scale of potential liabilities. The new law, while not dissolving it, can be viewed as an attempt to mitigate the risk from a capital markets perspective, essentially shifting more of it to customers (which carries business risks of its own).
Utilities are, in essence, peculiar financing vehicles for defraying the enormous cost and risks associated with building and operating the grid, one of the most complex and vital engineering feats on the planet. And that core identity is imperiled if the risk of wildfire liability (and possible bankruptcy) becomes embedded in the utility's cost of capital rather than treated as an unfortunate but isolated one-off. After the current smoke clears, utilities, regulators, ratepayers and investors will still have to grapple with pricing in the consequences of our changing climate.
This column does not necessarily reflect the opinion of the editorial board or Bloomberg LP and its owners.
Liam Denning is a Bloomberg Opinion columnist covering energy, mining and commodities. He previously was editor of the Wall Street Journal's Heard on the Street column and wrote for the Financial Times' Lex column. He was also an investment banker.