High Winds Fan California Fires as Blaze Erupts Near Los Angeles
(Bloomberg) -- The wildfires that killed at least 31 in California became some of the worst in state history as high winds and "extreme conditions" drove flames across bone-dry hills and mountains. A second blaze erupted on the fringe of the Los Angeles area.
The Camp Fire in Northern California and the Woolsey Fire in suburban Los Angeles have destroyed more than 6,700 structures and could cost the state, insurers and homeowners at least $19 billion in damage. The state's two largest utilities both fell sharply, with Northern California's PG&E Corp. losing as much as 38 percent, the most intraday in 16 years.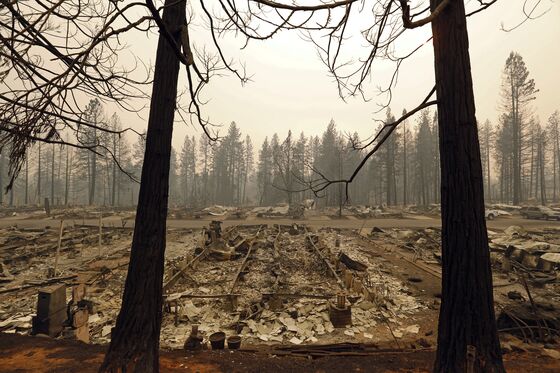 It could take another five days before firefighters put out Woolsey and the rest of the month to extinguish the Camp Fire, the California Department of Forestry and Fire Protection said. The new fire broke out in Ventura County outside Los Angeles, burning at least 10 acres and prompting officials to close the 118 freeway near the city of Simi Valley.
Gusts of up to 40 miles (64 kilometers) per hour are expected to buffet Southern California through Tuesday, fanning flames and potentially carrying embers onto rooftops and over roadways, Los Angeles County Fire Department Chief Daryl Osby said during a news conference Monday.
"These are extreme conditions," Osby said. "We're in extreme climate changes now."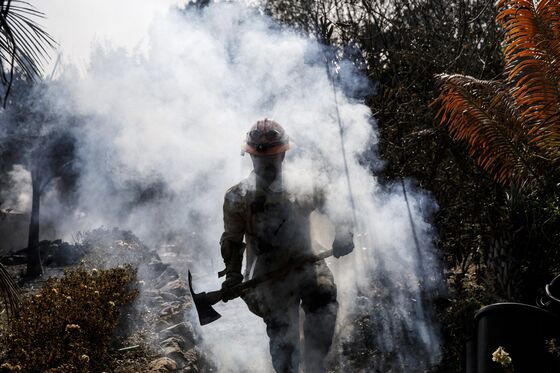 The blazes have now spread to more than 200,000 acres and threaten to destroy tens of thousands of structures, according to Cal Fire, as the state agency is known. About 228 people remain unaccounted for in the vicinity of the northern blaze. Governor Jerry Brown, meanwhile, has formally asked President Donald Trump to release new federal aid in a "major disaster declaration.''
"We're putting everything we've got into the fight against these fires, and this request ensures communities on the front lines get additional federal aid," Brown said in a statement.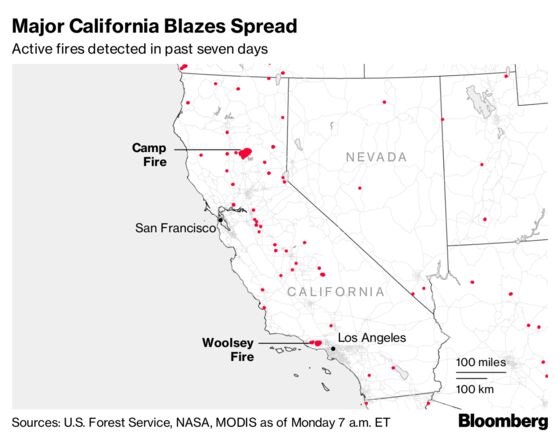 Initially, Trump had threatened to withhold money from California because of what he called "gross mismanagement of the forests." His later tweets were more measured, saying that "our hearts are with those fighting the fires." On Sunday, Trump tweeted again to encourage "proper" management to "stop the devastation constantly going on in California."
Osby, the Los Angeles County fire chief, said the president's comments were "very hurtful to all first responders who are putting their lives on the line to protect lives and property."
The damage north of San Francisco and near Los Angeles could be on par with the type of destruction triggered by Hurricane Michael, which left Florida in disarray earlier this year, said Chuck Watson, a disaster modeler at Enki Research.
"The California fires are as bad as folks think they are," Watson said, pegging possible damages of about $25 billion. "Insurance for fire is already becoming an issue in California and this won't help that industry."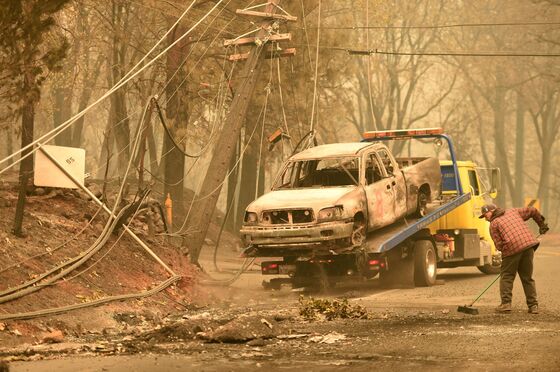 Camp Fire has now destroyed more structures than any other wildfire in state history, according to data compiled by Cal Fire. In Southern California, the Woolsey blaze has consumed almost 92,000 acres and is 20 percent contained, Osby said.
Authorities are investigating electrical equipment as one of several possible causes of the fire north of San Francisco. A PG&E transmission line in the area went offline 15 minutes before the Camp blaze was first reported, the company said in a regulatory filing. The company also reported finding a damaged transmission tower near where investigators say the fire began.
Edison's Southern California Edison utility said a power outage occurred near the suspected starting point of one of the fires near Los Angeles and that a sensor detected a disturbance in its equipment minutes before the blaze was reported. Osby said the origin of the blaze remains under investigation. Edison said it would cooperate with the probe.
Trading in PG&E Corp. was briefly halted Monday after shares plummeted. Edison fell as much as 25 percent.