Can a Rural California Republican Survive the Midterms?
(Bloomberg) -- The November vote in California's Central Valley will test whether a Republican who has occasionally bucked his party to work with Democrats can survive surging anti-Trump, anti-GOP sentiment in his state.
Representative Jeff Denham, 51, is seeking a fifth term amid shifts in his district and the polarizing impact of President Donald Trump, which have made him one of the most vulnerable Republicans in the House.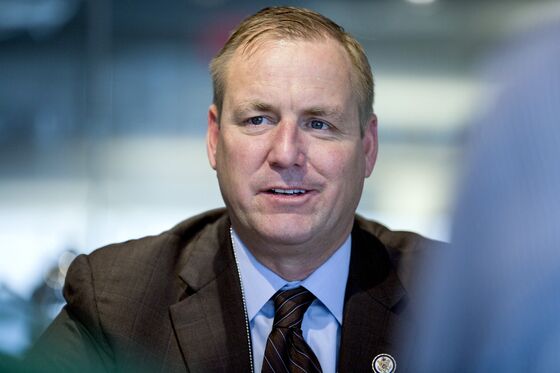 The 10th District he represents has more registered Democrats than Republicans, and it supported Hillary Clinton for president in 2016 as well as Barack Obama in 2012. His Democratic opponent, 32-year-old Josh Harder, is a political newcomer who moved back to the region last year after working since graduate school as a venture capitalist and consultant.
"It's a real toss-up," said Michael Latner, an associate professor of political science at California Polytechnic State University in San Luis Obispo. "The demographics have been changing, with an influx of residents from the San Francisco Bay area. Registration among Latinos is up. But Denham's roots in the district are strong."
California has 14 Republican-held House seats, including Denham's, that Democrats are trying to flip in the midterm election, the most of any state. The party needs a net gain of 23 seats to claim a majority -- and control -- of the U.S. House of Representatives.
Other House Republicans who've been targeted include Dana Rohrabacher, a 29-year incumbent who is battling businessman Harley Rouda in California's historically conservative Orange County, and Steve Knight, facing off against Democrat Katie Hill in a district north of Los Angeles. The latest polling from the Institute for Government Studies at the University of California, Berkeley, show Republicans trailing in four of eight closely-watched races. Three are dead heats and the Republican leads in one. The poll shows support for Harder at 50 percent, five points ahead of Denham.
Home to more than 713,900 people, the 10th District is part an agricultural region that provides as much as half of the vegetables, fruit and nuts grown in the U.S. Major employers include the E & J Gallo Winery, Conagra Brands Inc. and Frito-Lay Inc. The district's largest city, Modesto, is where labor leader Cesar Chavez marched for farm worker rights in the 1970s. The city greets visitors with an arch that reads "Water, Wealth, Contentment, Health."
With farms and businesses there often reliant on immigrant labor, Denham has been an outspoken advocate for the kind of changes to U.S. immigration law that put him at odds with Trump and other hardliners within the GOP. Denham said voters in the Central Valley don't always conform to party stereotypes on a host of issues.
"It is a district that has gone back and forth between Republicans and Democrats," Denham said in an interview. "Democrats that believe in the second amendment. Republicans and Democrats that are either farming or involved in the farming community. The valley is just different from the rest of the state."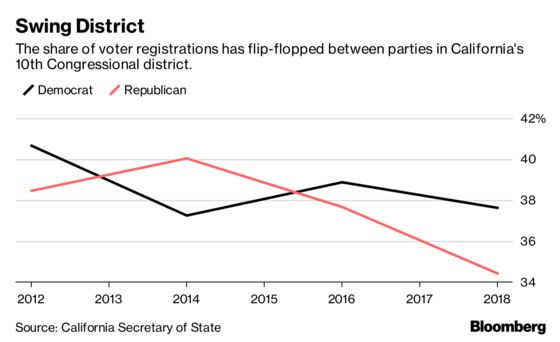 Denham and Harder have been fairly evenly matched in fund-raising. Harder's campaign said it raised $3.5 million in the third quarter, more than the $2.5 million total he'd raised through the end of June. Denham's campaign had raised $3.4 million to that point, and hasn't announced its third quarter numbers.
Harder has drawn big support from Silicon Valley donors, including $84,100 from his former employer, venture capital firm Bessemer Venture Partners. He doesn't accept money from corporate political action committees, while those PACs, from transportation, agribusiness and other industries, have given Denham $2 million, according to the nonpartisan Center for Responsive Politics.
Denham has tried to brand his opponent as "Bay Area Harder." Harder is a fifth-generation resident of the Central Valley, who left to attend Stanford University and get an M.B.A. from Harvard Business School. He worked for three years at the Bessemer venture capital firm before returning to teach business at Modesto Junior College last year. Harder acknowledges rarely voting prior to 2016 and says Trump motivated him to become more politically active.
"I was complacent in politics, and I was wrong," Harder said in an interview. "What shook me from my complacency was seeing how much votes matter."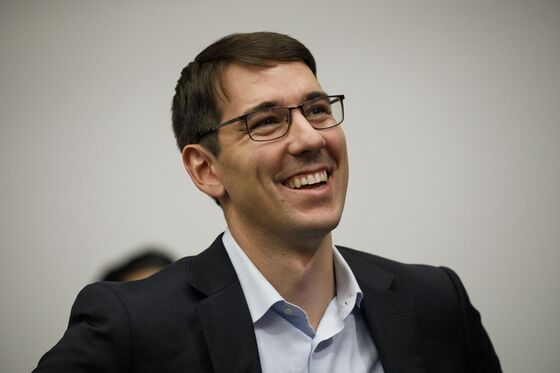 Harder has criticized Denham for voting to repeal the Affordable Care Act and in favor of the 2017 tax reform bill that limited local tax deductions, a potential crimp on incomes in high-tax states such as California.
Denham has tried to bridge the partisan divide on immigration by introducing legislation this year that would have toughened border security while establishing permanent residency for undocumented immigrants brought to the country as children.
"He's recognized that for the agricultural community, not all of the policies of the Republican Party are ones that can help him," said Robert Benedetti, a political science researcher at the California State University, Sacramento. "So he dodges some and moves a little to the left with others. He's kept his candidacy alive."
Whether that's enough to win Latino voters in a district that's 40 percent Hispanic remains to be seen. Aaron Anguiano, president of the Latino Community Roundtable of Stanislaus County, said his members endorsed Harder after considering the positions of both candidates.
Denham's comments that conditions weren't that bad at an immigration facility where children were being held turned him off, according to Anguiano, who said he crossed the border from Mexico illegally in 1974 and now is an attorney and naturalized citizen.
"I worked in the fields," Anguiano said. "I know what it's like to be running away from the border patrol."
Denham and his supporters are focusing on local issues, highlighting the money he can bring back to the district if re-elected. Denham points to a federally-funded water storage facility he championed, part of larger push in a district where access to irrigation is critical, as well as payments he won from the federal government to mitigate the impact of China tariffs. The congressman owns both an almond farm and a business that supplies plastic containers to farmers.
"Personally I like Denham," said Daniel Bays, a 31-year-old who helps his father and grandfather run a family farm in the district. "We've worked with him on a lot of different water issues and even in immigration he's made an effort to fix the system that we have."
Harder and his backers are looking at the national picture. Doug Dillon, an almond farmer who describes himself as a lifelong Democrat, said he was concerned Trump's trade policies would hurt sales of his crop. He's hosting an event for Harder at his farm this month.
Harder said the push by Senate Republicans to confirm Brett Kavanaugh for the U.S. Supreme Court amid allegations of sexual assault and misconduct -- which the judge has denied -- shows the district needs a change in representation.
"People see that hearing and they think, 'We need to win some elections,' " Harder said before the Senate voted 50-48 to confirm Kavanaugh. "It's really absurd, the circus going on in Washington, and what people are doing to this woman and many others."
Denham declined to take a position on Kavanaugh. "I'm not in the Senate," he said in an interview before the final confirmation vote on Saturday. "I'm elected to represent what happens here in the House. They're going to have to go through this process on their own."