California Faces More Wind and Fire Risk as Current Threat Eases
(Bloomberg) -- Southern California is facing more dangerous winds next week, just as the current round starts to ease.
Three fires are burning in the state after hurricane-force Santa Ana winds blew across the region, prompting utilities to cut electricity to more than 43,000 homes and businesses as of early Friday morning.
Dry, gusting winds capable of spreading wildfires will last at least until Saturday in the mountains of Los Angeles, Ventura, and Orange counties, and through Friday in the valleys, the National Weather Service said. They're expected to abate briefly, before high pressure over the Rocky Mountains meets low pressure crossing the Golden State, triggering more dangerous winds starting Monday and lasting for several days. Gusts have exceeded 90 miles (144 kilometers) per hour.
"The pressure gradient looks pretty bad come Monday," said Bob Oravec, a senior branch forecaster with the U.S. Weather Prediction Center.
California has already been charred by record fires that have burned 4.2 million acres and killed 31 people in 2020. Utilities including PG&E Corp. and Southern California Edison and have initiated blackouts repeatedly to prevent power lines from falling and igniting dry brush left bone dry by drought.
The biggest utilities in the region began cutting power Wednesday, while mandatory evacuation orders went into effect Thursday in parts of Orange County threatened by the Bond Fire. The largest of the three blazes has ripped through more than 6,400 acres and injured two fire fighters, according to the Orange County Fire Authority.
Edison International's Southern California Edison said Thursday in an incident report that a tree fell on its power lines during high winds in the area of the Cerritos fire, which has burned 200 acres in Riverside County and is 25% contained. The cause of the fire is under investigation and Southern California Edison will cooperate with the probe, spokesman David Song said.
The company had shut off power to more than 5,400 homes and business, or about 16,000 people based of the size of the average household, as of 7:35 a.m. local time Friday, according to its website.
Near San Diego, Sempra Energy's San Diego Gas & Electric utility has cut power to more than 38,000 customers, or about 114,000 people based on the size of the average household, according to the company's website.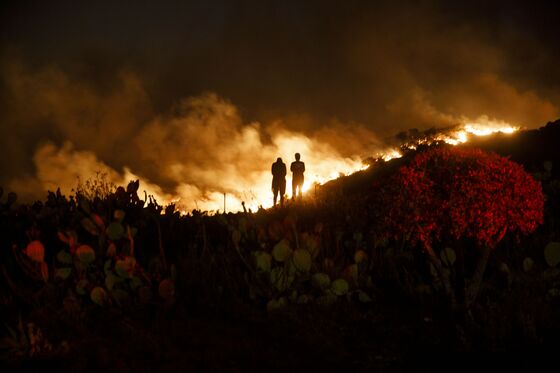 More than 30 of the utility's weather stations have recorded the strongest winds in 10 years, including gusts of up to 94 miles per hour, according to SDG&E meteorologist Brian D'Agostino.
"I've been now working here in Southern California for over a decade, and this is certainly top three in terms of strength of the wind," he said, in a video posted online.
PG&E said it had blacked out about 600 customers in the Central Valley earlier in the week, but has restored service to virtually all of them
Last week, Edison cut power to thousands of customers on Thanksgiving during high winds. In 2019, PG&E filed for bankruptcy after its wires sparked the deadliest blaze in state history.