Rees-Mogg Urges Johnson to Cut Taxes as U.K. Costs Rise
One of Boris Johnson's most senior ministers urged the prime minister to ditch a 12-billion-pound ($16 billion) rise in national insurance amid concerns about the rising cost of living in the U.K.
Leader of the House of Commons Jacob Rees-Mogg, who oversees the parliamentary timetable, told the cabinet on Wednesday that the 1.25% rise in the payroll tax -- designed to help pay for the National Health Service and the growing cost of social care -- should be shelved as inflation and energy bills surge, according to a person familiar with the matter, who asked not to be identified discussing private deliberations.
The sign of unrest in Johnson's top team ratchets up pressure to help Britons facing inflation that's soared to the highest in a decade and is projected to rise further. The cost-of-living crisis facing Britons is set to come to a head in April when the planned tax rise comes in, and energy bills are also due to increase.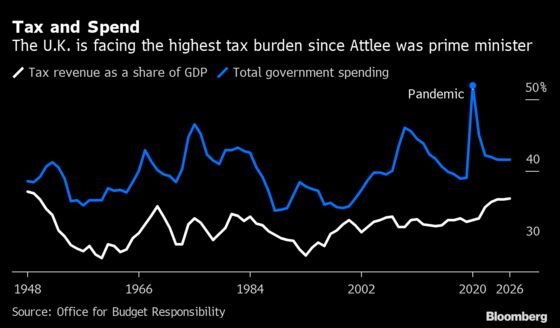 Yet Chancellor of the Exchequer Rishi Sunak immediately pushed back on calls for the government to change course, saying the tax increase is necessary to increase the number of doctors and nurses and to help clear a backlog of operations in the U.K.'s state-run health service.
"It's always easy to duck difficult decisions but I don't think that's the responsible to do," Sunak said in a pooled TV clip on Thursday. "I think people's priorities are for us to invest in the NHS and social care. We need to make sure those investments are funded sustainably."
Earlier, Johnson's spokesman Max Blain told reporters at a regular briefing there are "no plans" to delay the national insurance rise.
While a vote on the tax hike in September was preceded by much saber-rattling among Tory backbenchers, ultimately just five voted against it. It's helped put the U.K. tax burden on track to the highest level since the 1950s -- anathema to a party which regards itself as being one of low taxes. Sunak has said he wants taxes to be falling by the next election, due in 2024 at the latest.
Johnson enters 2022 bruised following a series of rebellions from his own Conservative MPs last year and a succession of self-inflicted errors that have cost him political capital. Last month almost 100 Tories opposed his plan to mandate the use of so-called Covid passes at nightclubs and other venues in England to slow the spread of the omicron variant. 
Now, looming pressures on household budgets are dominating political debate: On Wednesday, deputy opposition Labour Party leader Angela Rayner warned Johnson of an "iceberg right ahead of us." 
Hours later, Business Secretary Kwasi Kwarteng held talks with energy firms to discuss ways to head off further huge price rises.
The energy regulator Ofgem raised a price cap on domestic fuel bills by 12% to 1,277 pounds in October, and is due to announce a new rise next month, which would take effect from April. Some industry projections indicate it could take bills as high as 2,000 pounds.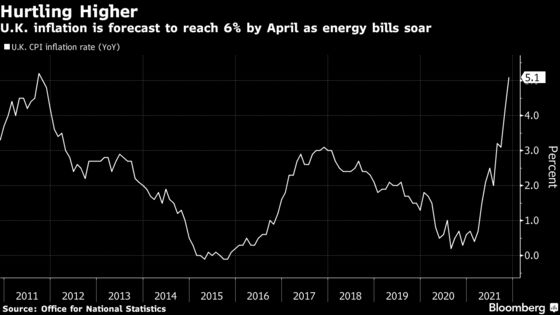 The comments on national insurance by Rees-Mogg, who's frequently advocated tax cuts, comes after 20 rank-and-file Tory MPs wrote a letter to the Telegraph newspaper appealing to Johnson and Sunak to remove the 5% Value Added Tax charged on energy, as well as the environmental levies they say make up almost a quarter of electricity bills. 
Johnson rejected that call on the grounds that the proposal would help "a lot of people who perhaps don't need the support."
But on Thursday, Conservative MP Peter Bone renewed the demand, asking Rees-Mogg to intervene to cut VAT on energy bills. The cabinet minister replied that while it is "easy" for MPs to "point at any individual tax and say that one should be cut," by contrast the government has to be fiscally responsible.  
Conservatives "have always recognized that it is taxpayers' money that must be spent wisely," Rees-Mogg said, referencing his low-tax approach. "There is no magic money tree."
Energy companies are asking the government for help to arrange a multi billion-pound commercial loan package to ease the financial hit from rising wholesale costs, which they're prevented from passing onto some consumers because of the price cap. 
Banks including Barclays Plc are involved, although there's still disagreement among firms about the size of the loans and how directly the government would be involved in their funding and guarantee. 
NatWest Plc, in which the government has a 55% stake, is in talks with ministers over a possible rescue plan for energy suppliers, the Telegraph reported Thursday.