Britain's Inmarsat Satellite Group Going Private in $3.4 Billion Deal
(Bloomberg) -- Funds including Apax Partners and Warburg Pincus placed a $3.4 billion bet on surging demand for inflight broadband, agreeing to buy satellite operator Inmarsat Plc in one of the biggest ever deals to delist a U.K. company.
Inmarsat shares jumped more than 8 percent to top the offer price as some investors speculated another bidder may try to break up a deal that already has the backing of top shareholder Lansdowne Partners.
Inmarsat has been in play since last year as it faces growing competition from traditional rivals such as ViaSat Inc. and new challengers including Richard Branson-backed OneWeb and Elon Musk's SpaceX offering smaller, cheaper satellites. Inmarsat has pinned its hopes on selling faster, more reliable internet services to the world's airlines.
The bidders -- which also include Canada Pension Plan Investment Board and Ontario Teachers' Pension Plan Board -- made their offer via a joint-venture company owned in equal shares.
It would mark a return for Apax, which was part of a consortium of investors that bought Inmarsat in 2003 and took it public two years later. Inmarsat Chief Executive Officer Rupert Pearce said that past association helped the board take the latest offer seriously.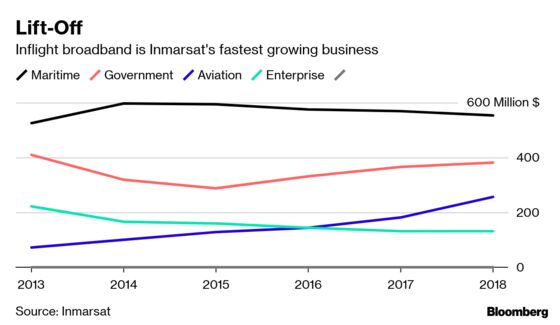 The agreed deal comprises $7.09 cash for each Inmarsat share plus a previously announced final dividend for a total bid value of $7.21, or 546 pence, per share.
Its scale would rival the takeover of the majority owner of London's Canary Wharf business district by Qatari and Canadian investors in 2015 which valued that company at about 2.6 billion pounds ($3.4 billion).
The agreed takeover price is slightly higher than an unsuccessful cash-and-equity approach last July from billionaire Charlie Ergen's EchoStar Corp. French rival Eutelsat Communications SA also weighed an offer before backing off.
While EchoStar or another investor could still weigh in with a rival offer under U.K. takeover rules, analysts at Numis and Canaccord Genuity said the potential for a rival bid was limited given the challenges faced by the company.
Oversupply has pushed down industry profit margins in recent years. Operators need years to develop new satellite systems and the technology can evolve fast, affecting customer demand.
EchoStar's overture failed to win over Inmarsat's board mainly because it was made up of a lot of B shares with reduced voting rights, Pearce said in an interview.
He said he didn't expect regulators to throw up significant hurdles to the takeover, given the buyers' experience with U.S. national security regulators. The government could also welcome comments from the consortium showing it was "committed to Inmarsat being headquartered in the UK and continuing with its R&D," he added.
The companies said Lansdowne Partners, which own 11.4 percent of the company, is backing the deal. Remaining investors will get a say at the company's general meeting, which is not yet scheduled but is due before May 31.